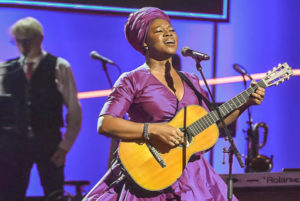 Ovens Auditorium will host four-time GRAMMY® winning artist/songwriter India.Arie on Thursday, May 9, 2019 at 7:30 p.m. Tickets are on sale now and can be purchased online at StubHub.com, by phone at 800-745-3000, at all Ticketmaster outlets or at the Bojangles' Coliseum Box Office located at 2700 E. Independence Blvd.
After more than 10 million albums sold and 10 world tours, including her pairing with icon Stevie Wonder on his historic 2015 Songs in the Key of Life Tour, India.Arie is recognized as a global difference maker. Over the past two decades, she has been embraced by a new generation of artists such as Janelle Monáe and Ariana Grande, amplifying the resilient singer/songwriter's signature themes of personal and spiritual growth, social justice and self-knowledge. Her willingness early on to challenge preconceived notions of beauty and sexuality coupled with her courage to defy broad racial and gender categorizations have helped empower current culturally-conscious movements.
Credited for creating some of the most thought-provoking songs of her generation, India continues to uphold the standard for singer/songwriters as a messenger for love, hope and compassionate humanitarianism.  She plans to showcase songs from the new album on her upcoming tour, sharing their compelling narratives as she continues to expand the canvas of her spiritual and lifestyle mission that has made her one of the most in-demand performers and speakers in the wellness space.
WORTHY is India.Arie's seventh studio album and soars as her most textured and lively work to date; an intuitive, multi-layered effort from a mature artist at the top of her creative powers.  Along with the inspiring "What If" (which honors iconic trailblazers such as Dr. Martin Luther King and Rosa Parks) India also released the Caribbean-tinged song "That Magic," from the forthcoming album.  Currently a Top Ten song at R&B, the corresponding video features award-winning Television/Film and Stage actor Lyriq Bent (just completed SHE'S GOTTA HAVE IT for Netflix) and a cameo from GRAMMY winning Reggae Superstar Gramps Morgan. Other songs on the album include "Hour Of Love," "Steady Love," "We Are," "Coulda, Shoulda, Woulda" and the title track "Worthy," among others.
Also among her accomplishments and accolades are five Top Ten albums (including 2001's seminal Acoustic Soul, nominated for seven GRAMMYs, and her #1 debuting 2006 release, Testimony: Vol.1, Life & Relationship), numerous NAACP Image Awards, BET Awards, MTV Awards, and command performances for three US Presidents, (receiving public praise from President Clinton and President Obama).  She also met the Dalai Lama and toured the National Civil Rights Museum with him in Memphis, TN.  She was inducted into the Georgia Music Hall of Fame in 2009, and has joined Oprah Winfrey on multiple projects, including as a featured 'Change Makers and Wisdom Teachers' on Winfrey's OWN Network as well as sharing with Oprah her trademark blend of performance/spiritual teaching via SongVersation.
For more information or tickets click here.
Comments
comments