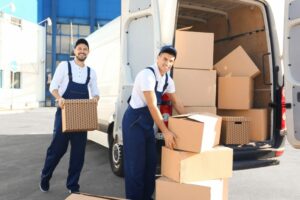 Are you considering hiring a moving company to help with your next move? Moving can be a stressful experience, and the choice of who will do the job for you is an important one. Finding the right moving company for your needs is essential to making sure your move goes as smoothly as possible. We've put together this listicle to help make that process easier. 
Read on for our tips on how to find the right moving company for you!
1. Do Some Research
Before choosing a mover, it's important that you research different companies in order to get an idea of what they offer and which ones are best suited to meet your needs. Whether you're relocating down the street or need long distance movers in Bakersfield, you must do research.
Take some time to read reviews and check ratings of moving companies before making a decision. There are several websites dedicated to providing customer reviews that can help you get an idea of what previous customers have experienced with each mover.
Ask around to see if anyone has referrals they can offer you on moving companies in your area. Friends and family are often able to provide personal recommendations or experiences that can be invaluable when choosing the best company for your move. 
2. Ask The Right Questions
When you've narrowed down your list of possible movers, it's important that you ask as many questions as you can think of. A good moving company will be able to answer all of your questions clearly and concisely so that you have a full understanding of the services they provide. 
If a mover is unable or unwilling to give clear answers to simple questions, move on.
3. Get Quotes
Before making a final decision, make sure that you get estimates from each of the movers on your shortlist. 
Some movers may offer a flat fee while others may charge by the hour or by the distance traveled. Most movers will offer a free in-home estimate so you can get an accurate idea of how much your move will cost.
4. Look For Additional Services
When selecting a moving company it's worth looking into the additional services they offer – such as packing and unpacking assistance or supply of packing materials. 
Some movers may also offer storage services, which can come in handy if you're not able to move into your new home right away.
5. Pay Attention To Cost
Cost is obviously a major factor when deciding on a mover; however, it's important to remember that the cheapest option isn't necessarily the best one. 
Do some comparison shopping online and find out what other similar companies charge for their services so that you get the most bang for your buck. 
6. Check Your Insurance
Check the insurance policies of any moving company you're considering hiring. Make sure they carry workers' compensation and liability insurance to protect both their team members and your belongings in case of accidents or damages during transit.
7. Get Everything In Writing
Before signing any contracts, make sure that all promises made by the mover are included in writing on the contract. 
This includes estimated costs, arrival times, method of payment, number of crew members, and an agreement on how any damages will be handled. 
In Conclusion
Finding the right moving company for your needs doesn't have to be a stressful task. With these tips, you can rest assured that your move will go as smoothly as possible. 
Do your research, ask questions, get estimates, check insurance policies and make sure to get everything in writing. Follow these steps and you'll find the perfect mover for your next move!
Comments
comments