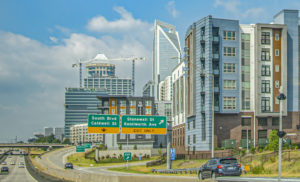 Ever thought about Airbnb-ing in Charlotte?
As a homeowner, organizing the logistics of running an Airbnb can be daunting. But, if you get it right, Airbnb can turn into a reliable source of income. Hosts in Charlotte earned an average of $2,000 in revenue last month, according to short-term rental data company AirDNA.
Homeowners and property investors across Mecklenburg county are catching on to the gold mine that is Airbnb. In the last 3 years alone, the number of Airbnbs has grown by 272%. According to Airbnb, hosts in Mecklenburg county earned $16.4 million in 2018 from 141,000 guests, nearly doubling the $8.7 million that was earned in 2017.
Usage of the short-term rental platform will only continue to grow, with projections of a billion bookings per year by 2025. "Charlotte is unique in that the city not only attracts traditional guests, but also a large number of business travelers that are using Airbnb as their accommodation while they are here for work," says Emir Dukic, founder and CEO of Rabbu, a local start-up that helps other Charlotteans make money off Airbnb.
Dukic never expected his first Airbnb to grow into what it is today. In 2015, Emir was considering leaving his full-time job to pursue starting a new venture. Before taking the leap, he needed to find an additional source of income to start building some financial runway. When he and his wife Sarah purchased a home with a spare room above a detached garage, turning the unused space into an Airbnb made the most sense. As avid travelers, Airbnb had always been their preferred type of accommodation. "We thought it was exciting to welcome people to Charlotte and extend that same hospitality that we had received in Airbnbs across the world to our own guests."
Soon after listing the spare apartment, the couple was making enough extra money to pay their mortgage. Airbnb was revealing itself to be more financially lucrative than they first assumed. Dukic began researching how he could scale this initial success.
"I was looking online and came across this real estate investing tactic called 'rental arbitrage'. Essentially, it allows you to start generating income off real estate without actually owning any." Emir would go to long-term landlords and propose that they rent their properties as Airbnbs, under his supervision and expertise. The landlord would gain a reliable business tenant to pay rent, while he would pocket the difference made from Airbnb bookings.
"We used this method to grow a portfolio of around 10 units before realizing we needed some extra man power." Like most hosts do, they saw the money from Airbnb was really good, but the workload was really high. Emir and Sarah began assembling a team to help handle operations, cleanings, and guest communications. What started as a side hustle for discretionary income quickly evolved into a full-scale short-term rental operation. That's when Rabbu was born—a property management company that makes hosting easy for everyone. Rabbu offers Charlotte homeowners and property investors full-service management that simplifies the process of earning money from an Airbnb listing. They really handle everything for homeowners—from creating the listing, to conducting all the guest communications, optimizing pricing and bookings, and scheduling cleanings between every turnover.
"I knew that other people could also make money off renting their home, and we could help them do it."
Rabbu has since hosted over 5,000 guests and managed over 80 Airbnbs across Charlotte, Atlanta, and Savannah. With the help of a strong internal team and a suite of proprietary in-house technologies, the managers have earned their owners over $2 million in passive income.In Dukic's opinion, Airbnb is an easy to enter market for first time investors, and partnering with a property management company to handle the work makes the income as passive as it can get in real estate.
One of the most rewarding parts for the Rabbu team is watching what their owners are able to do when they have this extra dependable flow of income. "We recently had one of our owners reach out to us while they were on vacation—a vacation they were able to take because they knew we'd be generating them income off their property at the same time."
Rabbu's goal is to continue empowering other Charlotteans in achieving financial freedom through real estate investing. "Charlotte is still an extremely lucrative real estate market with plenty of opportunities to generate ROI. It's our mission to help people capitalize on the market and use short-term rentals to build long-term wealth."
If you're curious to see how much money your home could make as an Airbnb, you can use Rabbu's free rental income calculator for monthly revenue projections.
Comments
comments