Cuba is a place of exceptional biodiversity and cultural richness, and soon, for a limited time, a new bilingual exhibition at Discovery Place Science will offer visitors fresh insights into this island nation just 94 miles from Florida's shores.
With a close look at Cuba's unique natural history, including its native species, highly diverse ecosystems and geology, ¡Cuba! also explores Cuba's history, traditions and contemporary Cuban voices to inspire novel perspectives on this dynamic country.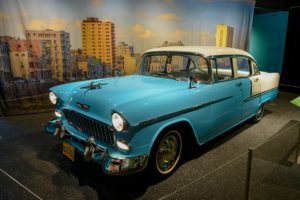 Organized by the American Museum of Natural History (AMNH) in New York, ¡Cuba! will be on view for just 64 days, from November 9 to January 1, 2020.
Technically an archipelago of more than 4,000 islands and keys, Cuba is the largest island nation in the Caribbean—and one of the region's most ecologically diverse countries.
The exhibition includes cultural artifacts, as well as live animals, specimens and lifelike models representing the island's distinctive wildlife, from a venomous mammal to the world's smallest bird. Biodiversity displays were developed by the AMNH in close collaboration with scientists at the Cuban National Museum of Natural History (Museo Nacional de Historia Natural de Cuba, MNHN). Highlights include a re-creation of the Zapata wetlands, home to the endangered Cuban crocodile.
A long, open boulevard evoking the street life one might find in a Cuban city invites visitors to discover Cuban culture through music, games and a variety of interactive experiences. Other highlights include a pair of altars celebrating orisha religion, an Afro-Cuban spiritual tradition also known as Santeria; a gallery showcasing contemporary Cuban art; and a display on the cultivation of one of Cuba's most famous crops, tobacco. An introductory film about Cuba's history—including its first people, slavery, the sugar industry, and the 1959 revolution—provides visitors with historical context for contemporary realities.
¡Cuba! also looks at the environmental challenges the country faces, as well as the many effective conservation laws and measures in place to preserve its unique landscape.
As the political and economic relationship between the U.S. and Cuba continues to evolve, the exhibition aims to promote visitor understanding of Cuba's history as well as its future.
"This exhibition really aims to surprise our visitors with details about Cuba that they've never thought about before," said Catherine Wilson Horne, Discovery Place CEO and president. "Like the creators of ¡Cuba!, our hope is that this exhibition relays an understanding of who the people of Cuba are, how the island nation is biologically unique, how it is connected to the world and what it's like to live in Cuba today."
Fiesta planned for opening night
To elevate this Cuban adventure, Discovery Place Science is hosting a special adults-only Taste of Cuba series at the Museum. The latest, Taste of Cuba: Fiesta, will take place on opening night of the exhibition and will feature a traditional Cuban party.
Guests can follow along with a salsa lesson, witness breathtaking performances and even try their hand at a few instruments. The evening's menu includes the classic Elena Ruz sandwich, Panque de Jamaica, empanaditas de chorizo, pastelitos de guayaba and a plethora of Cuban desserts. Plus, no fiesta would be complete without libations! A cash bar will feature Cuba Libre cocktails, mojitos and Cuban beer.
Tickets are $45 and include admission to the exhibition. Additional Taste of Cuba events themed Sip and Live will occur on November 21 and December 4. For more information about the Taste of Cuba series, click here.
The full Cuba Experience
Throughout the run of ¡Cuba!, Discovery Place Science will also be showing the IMAX® film, CUBA.
Filmed exclusively for IMAX® and giant screen formats, CUBA immerses audiences in the electrifying culture of the island and reveals why Cuba continues to stir the imagination of the world. The film tells the powerful story of a land preserved in time yet poised on the cusp of dramatic change. The nation's lively culture, its meticulously maintained colonial architecture, and the pristine ecosystems provide a colorful window into the island's history and heart.
Audiences will be transported across breathtaking landscapes, beneath the ocean's surface to iridescent reefs, and into streets throbbing with music and dance in the heart of Havana. Through the eyes of Cuban artists, historians and scientists, the film provides an intimate look this vivacious island nation.
¡Cuba! the exhibition will be on exhibition from November 9 through January 1, 2020. Ticket prices and packages to ¡Cuba! are:
| | | | | | |
| --- | --- | --- | --- | --- | --- |
| | Adults | Children (2-13) | Seniors (60+) | Members | Welcome |
| Full Cuba Experience ¡Cuba! the exhibit PLUS CUBA in IMAX (includes full-day Museum admission) | $26 | $22 | $24 | $7 | $8 |
| ¡Cuba! the exhibit (includes full-day Museum admission) | $22 | $18 | $20 | $3 | $4 |
Discounts are available for schools and groups of 15 or more. Tickets are on sale now and advance sales are highly recommended. Reserve your spot in advance at science.discoveryplace.org, via phone at 704.372.6261 or in person at Admissions. For more information, visit discoveryplacescience.org.
Comments
comments