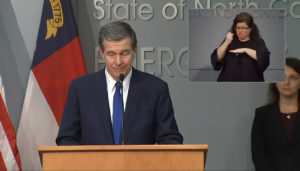 Governor Cooper has proclaimed October as Cybersecurity Awareness Month in North Carolina. The initiative is part of a month-long campaign by the N.C. Department of Information Technology to educate people about cybersecurity threats and ways they can guard against them.
"With our increasing presence online, especially since the onset of COVID-19, we are more vulnerable than ever to bad actors who try to steal personal and private information from governments, businesses, schools, neighbors and ourselves," said Thomas Parrish, IV, Acting Secretary and State Chief Information Officer of the North Carolina Department of Information Technology. "This month is all about educating the public on the best ways to remain cybersafe every time they log on."
On Oct. 5-6, the NCDIT and its Enterprise Security and Risk Management Office (ESRMO) will sponsor a virtual symposium for government agencies, state and local government employees, and academic institutions to discuss cybersecurity with leaders in the industry. The department will also provide tips, tricks and best practices through its social media sites to help educate people on how to protect data from cyberattacks.
Cyberattacks are not new to North Carolinians. In 2019, the FBI Internet Crime Complaint Center (IC3) received 8,223 cybercrime reports totaling over $48 million in losses. With NCDIT's support and guidance, the United Way of North Carolina and the Cybercrime Support Network (CSN) launched the state's first cybercrime support and recovery hotline, 2-1-1. To report identity theft, financial fraud, cyberstalking, cyberbullying and other cybercrimes, all North Carolinians have to do is dial 2-1-1. They will be connected to trained specialists from the confidential and free service who can connect them with resources and recovery support.
"No one is immune to a cyberattack and it will take everyone, not just the state of North Carolina, to do their part and to be proactive in keeping our data and information secure," said Maria Thompson, Chief Risk Officer for the state of North Carolina. "Education and awareness are the best ways to help avoid becoming a victim."
Next week, NCDIT will also be launching CyberSecureNC for Schools and Students, a website and educational effort dedicated to helping school administrators, teachers, students and parents with the transition to working and learning remotely and doing it in a safe and cybersecure way. This is a part of it.nc.gov/CyberSecureNC, the agency's statewide effort to promote being cybersafe as well as what to do if you become a victim of a cyberattack.
For more information on Cybersecurity Awareness Month in North Carolina, visit it.nc.gov/CyberSecureNC.
Comments
comments