With a steady stream of new subdivisions being built all around Gaston County, and Charlotte's massive new River District in the works, developers are now pushing harder than ever for a new bridge across the Catawba river.
Currently, there are only really two main roads that connect Charlotte with Gaston County – I-85 and 74 (Wilkinson Blvd.), which will usually both become backed up for miles during rush hour.
One of the proposed routes of the Catawba Crossing would join West Blvd. (just below the airport) with Gaston County, and would include 2 bridges and an eventual highway as it winds through southern Gaston County to connect back up with I-85.
The first section of the new Catawba Crossing would "extend from South New Hope Road, crossing the South Fork River and South Point Peninsula, and then the Catawba River, downriver from the Interstate 85 crossing, to Mecklenburg County and into what will be developed into River District," says Mark Cramer, executive director of Belmont-based Greater Gaston Development Corp.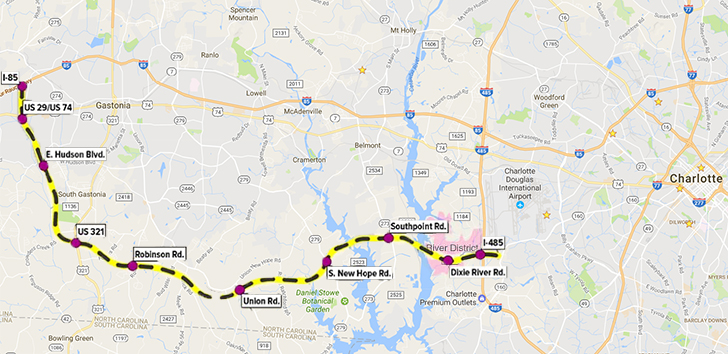 According to the Gaston Cleveland Lincoln Metropolitan Planning Organization, the total population of Gaston County grew by 3.2% between April 2010 and July 2015 (now estimated to be at 212,636 residents). The N.C. Office of State Budget and Management now expects that number to increase to 9.1% between 2020 and 2030.
The N.C. Department of Transportation currently estimates the Catawba Crossing's initial cost at $199 million. It was proposed in 2015, but failed to reach high enough on the state's priority list.
The Gaston Cleveland Lincoln MPO is now leading an effort to restructure the proposal and re-submit it at the regional or statewide tier rather than the division level this coming Summer.
What are your thoughts about the new bridge? 
Comments
comments