Yesterday, our City Council voted unanimously to approve the Queen City's biggest new development in over two decades.
Charlotte's new 'River District' will be built on nearly 1,400 acres of undeveloped land between the Charlotte Douglas Airport and the Catawba River. Lincoln Harris and Crescent Communities will be the primary 2 developers.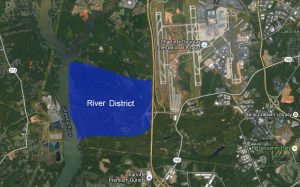 It will basically be a whole new town, requiring miles of new roads to handle an estimated 120,000 additional vehicle trips per day, new schools, a new police station and new sewage facilities for dealing with the millions of gallons of additional wastewater.
The plans currently includes single family home neighborhoods, several office towers, retail corridors, hotels, and waterfront parks.
It will be split up into 3 distinct 'districts'; the gateway district, transitional district and the town center district.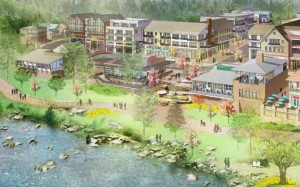 The gateway district will include several office buildings, totaling 500,000 square feet, at least 50,000 square feet of retail space, and several new hotels. 250 hotel rooms. The transitional district will have 300 multifamily units, 1 million square feet of office space, and 25,000 square feet of retail. The heart of the new community will be the town center district, which will extend up to the Catawba River – it will feature 1,250 multifamily units, 300 single-family units, 2 million square feet of office space, 300,000 square feet of retail and 500 new hotel rooms.
The development will be somewhere between Ballantyne (2,000 acres – heavy office with a golf resort) and Rock Hill's new Riverwalk community (1,008 acres – mostly residential with water-front shops and parks).
With over 500,000 square feet of retail and over 8 million square feet of office space proposed, the development would actually be larger in density than the original Ballantyne development.
What do you think about Charlotte's new development?
Comments
comments