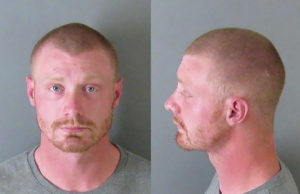 27-Year-Old Christopher Hibberts was just arrested by Gaston County Police after a five-hour standoff in Dallas, NC.
According to the police report, officers were attempting to serve Hibberts several felony charges, including kidnapping and assault, at his residence on Old Spencer Mountain Rd. in Dallas, NC.
When Officers attempted to approach Hibberts, he ran into the home and locked himself inside. After numerous commands to exit the home, officers called in the Gaston County Police Emergency Response Team to assist.
After a 5 hour standoff, a special unit engaged in a tactical forceful entry and search of the home. Officers in the unit found Hibberts in a small hiding space. He was arrested without injury.
He has now been charged with 2nd-degree kidnapping, break and enter to terrorize or injure, assault on a female, assault by pointing a gun, and interfere with emergency communication (911), according to the police report.
This is an ongoing investigation, if you have any additional information, please call Officer M.T. Johnson at (704) 866-3320 or CrimeStoppers at (704) 861-800.
Comments
comments