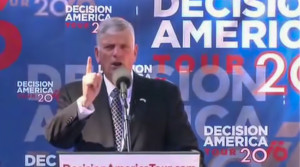 Franklin Graham has just announced a new 8-stop tour of North Carolina, during which he will attempt to fill some of the biggest venues in our state over the course of 2 weeks.
The "Decision America Tar Heel State Tour" will feature music by Jeremy Camp and Dennis Agajanian, and preaching by Franklin Graham.
According to his website, "From October 1–13, Franklin Graham will embark on an eight-city tour of his home state, North Carolina. One-night prayer and evangelism events are scheduled to take place in Fayetteville, Greenville, Wilmington, Raleigh, Greensboro, Hickory, Charlotte and Asheville."
Graham recently finished a much wider 6-state 'Decision America Tour' on May 30th in Syracuse.
The evangelist insists the tours are not political, but his speeches are often riddled with overtly political statements.
During his speech in Syracuse, Graham spent several minutes calling on Trump's critics to "move on" from the inquiries into President Trump's behavior (including the Mueller report).
"I don't know of any president who has been attacked as much," Graham said, adding that he thinks that "Congress needs to be focused on solving problems."
That statement brought a cheer from the audience.
Later in his speech, Graham spoke at length about his recent verbal feud with Pete Buttigieg, the openly gay Democratic Presidential Nominee.
He repeated what he has said several times over the past few weeks — that homosexuality is a sin and Buttigieg needs to "repent his sin, not flaunt it."
Comments
comments