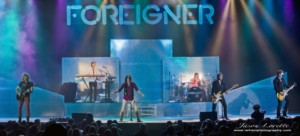 One of the most legendary rock bands of all time is now planning a major concert for the Queen City. They will be coming to Charlotte's largest venue, the PNC Music Pavilion (formerly Verizon Wireless Amphitheater) on August 5th at 7pm.
After unleashing their 1977 debut single, "Feels Like the First Time," the worldwide #1 hit, "I Want to Know What Love Is," and 10 multi-platinum albums, British-American rock band Foreigner achieved the well-deserved status of one of the most popular groups in history.
To celebrate their 40th anniversary, the iconic rockers are embarking on a year-long tour that ties into their latest release, 40 – Forty Hits From Forty Years , a comprehensive compilation of classic chartbusters featuring the brand new singles, "The Flame Still Burns" and "Give My Life for Love."
"I never could have imagined when I set out to create Foreigner forty years ago, that we'd still be touring around the world and performing the music we love all these years later. I can't express the gratitude I feel when fans share stories of how our songs have been woven into their milestones and memories over the years. This summer we are going to celebrate these songs, and I can't imagine a better group of friends to share this monumental tour with, than Cheap Trick and Jason Bonham who are sure to make it a true tribute to the everlasting power of rock and roll," commented front man Mick Jones.
The legendary group will be rocking out the PNC Music Pavilion, along with Cheap Trick and a Led Zeppelin cover band on August 5th at 7pm. For a limited time they are offering 50% off tickets through Groupon.
Comments
comments