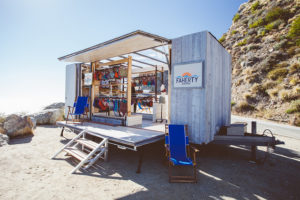 Starting Friday, October 12th, the popular beach-inspired lifestyle brand Faherty will open up their mobile pop-up store trailer in front of Paul Simon Co shop (4300 Sharon Rd #25, Charlotte, NC 28211), bringing some truly unique fashion styles to local shoppers.
The 26-foot-long open-air trailer will be parked in front of the specialty store and open to shoppers starting at 10am and will showcase a curated selection of cozy sweaters, flannels, and colorful ponchos for the entire family from the new Fall 2018 collections for men, women and children. Faherty's custom designed "beach house on wheels" has traversed the country, visiting music festivals, resorts, specialty stores, and beaches on both coasts. Faherty co-founders and brothers Alex & Mike Faherty are thrilled to bring the brand's laid back, comfort focused vibes to Charlotte and offer fans a wider selection of their collection in person.
New York-based, family-owned Faherty is highly acclaimed for crafting premium, casual contemporary clothing through primarily sustainable fabrics — including organic cotton, true indigo dyes and their signature swimwear made from a proprietary fabric derived from recycled plastic bottles. The coastal lifestyle brand often pulls inspiration for unique techniques from cultures globally, such as Native American weavings and Japanese indigo dye processes. The brand's beautiful clothing centers on ethnic-inspired prints, sun-faded hues and ultra soft pre-washed textiles. The collection retails between $98-$400 and is carried by notable national retailers such as Bloomingdales, Barneys, and Nordstrom, and local Charlotte specialty stores including Tabor and Paul Simon.
Comments
comments