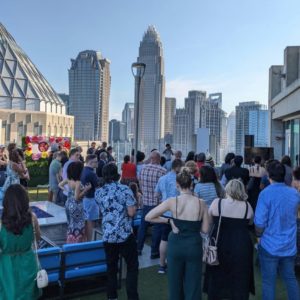 Today, Crave Charlotte, the city's first and only food, wine and mixology festival, announces its second annual event. Sponsored by Greystar, the multi-day festival will bring together over twenty of the finest chefs, restaurants, mixologists and winemakers in Charlotte to present a variety of fine culinary experiences across the city. Crave Charlotte will begin on June 23 with the main event taking place on Saturday, June 26 at Innovation Barn, Charlotte's first circular living lab.
"Envision Charlotte is excited to partner with Crave Charlotte not only to support the entrepreneurial spirit of our food, wine and beer culture in Charlotte, but also because this festival will lead the way in demonstrating how to implement a zero waste event," said Amy Aussieker, Executive Director of Envision Charlotte. "We hope that other events use this example as we work to become a more sustainable Charlotte community."
The first event to take place at Innovation Barn, created by Envision Charlotte to help eliminate waste, Crave Charlotte will use materials that can either be composed on site, recycled or upcycled. All proceeds from the festival will benefit Envision Charlotte, a public private plus collaborative that leads Charlotte's progress as a global circular and smart City through innovations that strengthen economic competitiveness, environmental sustainability and positive community impacts.
Crave Charlotte attendees will celebrate some of the best culinary professionals in Charlotte over intimate dinners and all together for the main event. Tickets are limited for the personal experiences with featured chefs.
Crave Charlotte Schedule:
Wednesday, June 23rd – 5: 30 and 7 p.m.
Best of Bardo
Bardo
Chef William and Bardo's mixology specialist, Ashley, will provide a five course tasting menu paired with cocktails, highlighting favorite dishes from past menus.
Alchemy Tequila Dinner – Featuring Espolon Tequila and Somra Artisan Mezcal
Alchemy C-3 Lab
Executive Chef Ken Aponte takes you on a four course culinary journey while pairing each dish with a craft cocktail using their full line of Espolon 100% Blue Weber Agave Tequila.
Thursday, June 24th – 6 p.m.
Joy of the Feast
Broadstone Ayrsley Apartments
The enhanced dining experience with Chef Lisa Brooks of Heart & Soul.  This exquisite five course meal will include bottle service.
Bougie Bar B' Que and Bourbon
Golden Owl
Bougie Bar B' Que and Bourbon prepared by Chef Ben of Golden Owl.
Friday, June 25th – 6 p.m.
French Summer Wine Dinner
Roots Cafe
A six course French Rose Soiree paired with six French whites, roses and champagnes.
Saturday, June 26 – 1 to 5 p.m. (VIP and early admission begins at 12 p.m.)
Crave Charlotte
Innovation Barn
The main event will feature wine, cocktails, craft brews and exceptional plates prepared by 20 plus local chefs and mixologists.
Participating chefs include:
Chef Ralph Allsopp – Deep Dish Catering

Chef Ken Aponte – Alchemy at C-3 Lab

Chef Craig Barbour – Roots Cafe

Harley Blaisdell – Nuvole Rooftop TwentyTwo

Chef Chris Coleman – The Goodyear House

Chef Lisa Brooks – Heart & Soul Personal Chef Service

Chef Andarrio Johnson – Cuzzo's Cuisine

Taylor Kastl – Tayste Catering

Chef Ben Lacy – Golden Owl

Chef Matt Martin – Freshlist

Chef Olajuwon Mason – Fine & Fettle

Chef Ivan Pereyra – Lincoln Street Kitchen & Cocktails

Chef Sylvain Rivet – Renaissance Patisserie

Chef Whitney Thomas – Wylie Hotel

Chef William Underwood – Bardo

Chef Drew Ward – Brewers at 4001 Yancey
More information and the full list of chefs and mixologists can be found at craveclt.org. Crave Charlotte is presented by Extreme Property Services and Queen City Elite.
Comments
comments