Over the weekend, a vulgar message was posted on the South Charlotte Middle School sign, condemning the newly appointed Supreme Court judge, Brett Kavanaugh.
Yesterday afternoon, freelance writer A.P. Dillon tweeted a picture of the sign to the main CMS account, questioning the shocking message (you can see the un-blurred tweet here);
CMS quickly responded by saying the picture was "fake news"
Local resident Tracy Lundell then posted an image they had taken, and said, "I guess my son, brother in law and I were hallucinating yesterday morning around 10am then? We pulled in the parking lot and took pictures of the awesomeness!… Nothing fake about it!" (you can see the un-blurred tweet here);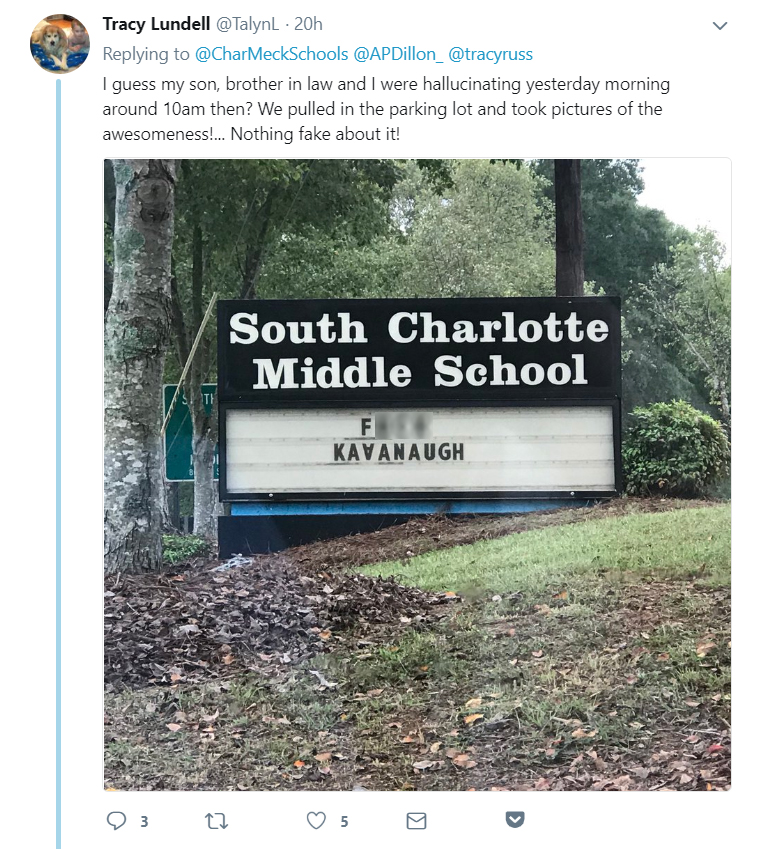 CMS Media Relations was then forced to back peddle on their quick "fake news" assumption, releasing the following statement via a tweet response;
"An exterior sign at South Middle School was vandalized over the weekend. A picture posted to social media Monday evening 10/8 by a community member initially appeared to show a faked alteration of the sign and content. This determination was made after on-site investigation within one hour of the social media post showed the sign was confirmed clear of all content on Monday evening.
Later corroboration of the initial posted image and review of the incident from school staff confirmed the sign had been defaced over the weekend with an inappropriate message that was removed early Sunday by staff members.
CMS messaging guidelines, Board policies and codes of conduct forbid use of profanities in any communications. CMS is investigating this matter with law enforcement."
— CMS Media Relations (@CMS_MR) October 9, 2018
Comments
comments