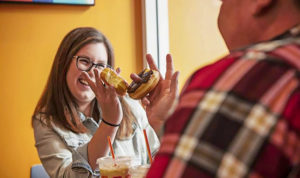 Dunkin' Donuts is truly spreading the love this Valentine's Day season by hosting a drive-thru wedding for one lucky couple. Everyone's favorite radio hosts, V101.9's Fly Ty and Jacinda Jacobs, will officiate an extra-sweet wedding ceremony on the morning of Friday, February 12th at the Dunkin Donuts location on South Kings Drive. At the end of the ceremony, guest star from The Voice Jaron Strom, will serenade the newlyweds.
The winning couple will also be chauffeured in a black sedan and showered with several gifts including a donut cake, flowers, free coffee for a year, a one-night stay at the Omni in uptown Charlotte, as well as a $250 gift card to Essex restaurant.
Couples can register for the contest at V101.9. The couple who submits the best reason for wanting to get married at a Dunkin' Donuts will be the lucky winner!
Comments
comments