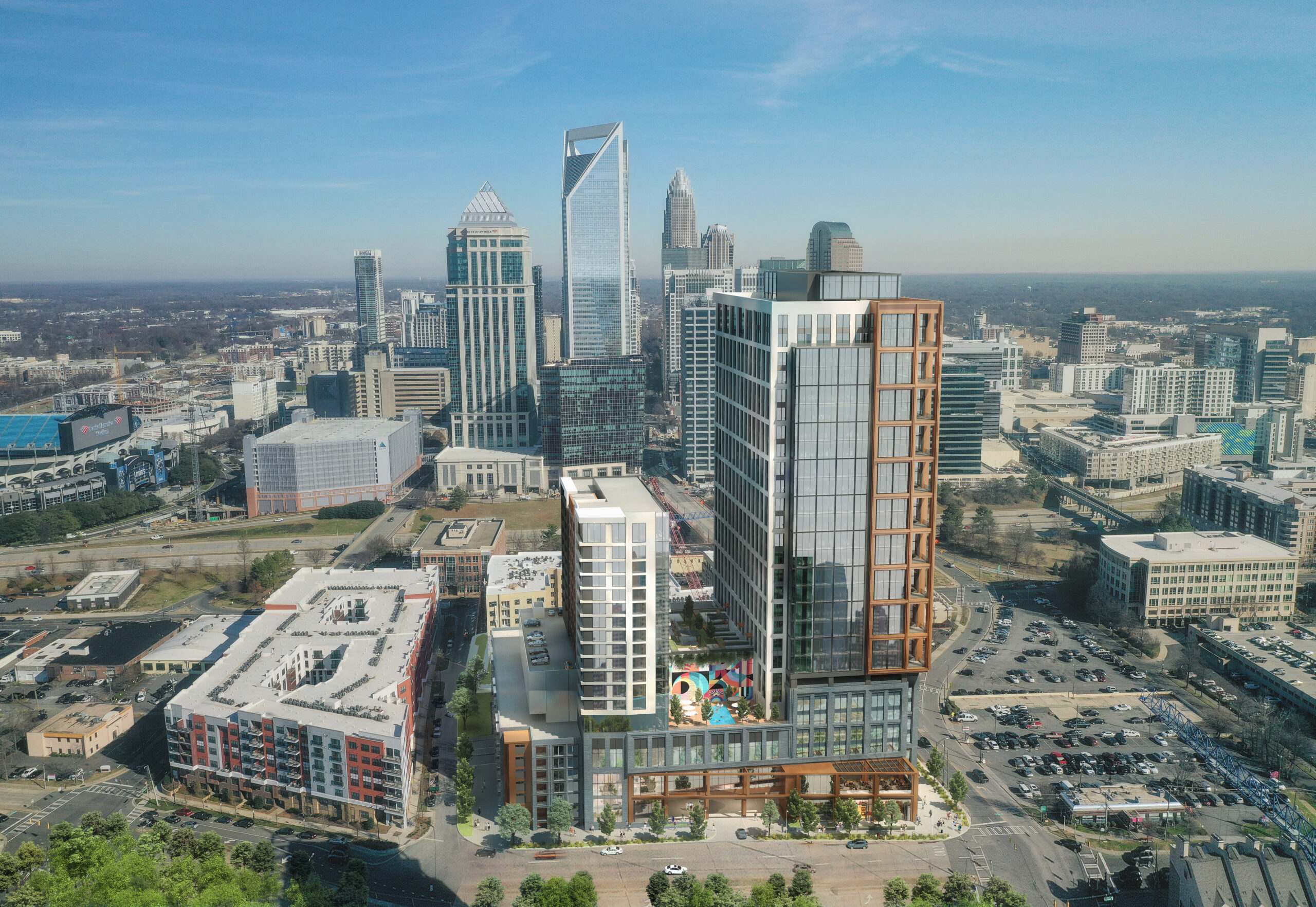 Crescent Communities, in partnership with Nuveen Real Estate, today announces the land closing for a 31-story commercial project that will forever change Charlotte's skyline: Carson South End.
The new mixed-use tower will be uniquely positioned between the
thriving South End neighborhood
and Uptown's Central Business District; both key professional and residential hubs in Charlotte's metropolitan area.
"With Carson South End, connectivity is at the core of this exciting and transformative new opportunity," said Sagar Rathie, Managing Director of Office at Crescent Communities' Commercial business unit. "Office employees, hotel guests, apartment residents, and pedestrians will all find community within the eclectic mix of green space, restaurants, and amenities planned for this highly integrated mixed-use community."
Anchored at the South Tryon Street and Carson Street intersection, Carson South End is set on three acres and will provide an attractive location for office tenants seeking a convenient South End location with Uptown business sophistication – not to mention incredible skyline views from all floors. With unparalleled walkability to on-site restaurants and retail, other nearby retail offerings, and the Carson Street Blue Line Light Rail Station, both just steps away, Carson South End also offers easy and direct access to major highways I-277 and I-77. The project will boast nearly 560,000 square feet LEED-certified Class A office space, 10,000 square feet of retail space, a 200-key luxury boutique hotel (being developed in partnership with ABC Investments & Management Company), and over 100 multifamily units. Adding to its exceptional convenience, Carson South End will feature design flexibility and unmatched visibility and signage potential for prospective office and retail tenants.
This announcement is the latest in Crescent Communities' portfolio of over 22MM square feet of office, mixed-use, and industrial developments representing nearly $2.4BN of total investment, cementing their footprint as a leader in the commercial space. Crescent Communities' Commercial sector currently offers three business lines: Office, Industrial, and Life Science. Beyond this soon-to-be Carson Street project, Crescent Communities' office and mixed-use developments recently completed or currently under construction in Charlotte include Ally Charlotte Center, Elizabeth on Seventh, and Escent Research Park, among many others.
Key partners involved in the development of Crescent Communities' Carson South End project include Nuveen Real Estate, Cooper Carry, and LandDesign.
Comments
comments