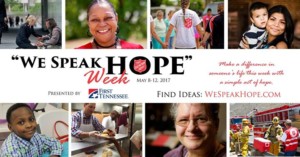 The Salvation Army of Greater Charlotte has launched a new campaign this week, focused on encouraging people to give back and spread hope to others.
Yesterday hundreds of people packed BB&T Stadium for the kickoff – volunteers spent hours filling toiletry bags, school supplies, and snacks.
The bags will go to local homeless people, the school supplies will go to underprivileged kids, and the snacks will go to first responders and members of the military.
"The Salvation Army this year is just trying to generate that attitude of hope in our community where people have needs. And we and other organizations in our community step out there to make a difference," said Major Larry Broome.
For the remainder of this week, the Salvation Army wants to encourage everyone in Charlotte to get involved, to do something to bring hope to someone else. It can be something small, or something huge, whatever you do, you can share your experience using #WeSpeakHope on social media.
Here are some ideas the Salvation Army offered:
Compliment a friend or coworker.
Thank a veteran for his or her service.
Bake cookies and deliver to your local fire department.
Write a thank-you note for your local fire department.
Buy a gift and write a note to a child at Levine Children's Hospital: http://www.carolinashealthcare.org/medical-service…
Pick up trash in your neighborhood.
Collect soda can tabs for Ronald McDonald House: http://www.rmhc.org/other-ways-to-help.
Hold the door for a stranger.
Smile at a stranger.
Buy a stranger behind you in line lunch or a cup of coffee.
Create a care pack for a homeless person. In a plastic bag, include a snack, hygiene items and an encouraging note.
Leave a kind note in your mailbox for your mail carrier.
Write a letter to a deployed member of our military: http://signup.operationgratitude.com/letterwriting
Say thank you when you see a police officer.
Help load groceries for someone.
Visit a nursing home.
Leave an encouraging note/money on a car.
Give recyclables to someone you seeing picking through trash.
Call or message a friend you haven't spoken to in a while and say hello.
Bring donuts/cookies and coffee to the office.
Write a nice review for your favorite restaurant or store.
Write a recommendation for a friend on LinkedIn.
Send dessert or drinks to another table
Bake someone a cake.
Leave quarters at the laundromat.
Donate school supplies to Classroom Central: www.classroomcentral.org
Run errands for a family through Hospice & Palliative Care – Charlotte: https://www.hpccr.org/volunteers/opportunities
Assist with résumé building and interview training: http://goodwillsp.org/donate/donate-time/
Host of food drive for Second Harvest Food Bank: https://www.classy.org/campaign/host-a-food-or-fun…
Knit a blanket for a expecting mother at Florence Crittenton: http://www.fcsnc.org/
Donate your used books to the public library: www.cmlibrary.org
Talk to someone new at school or at your office.
Return someone's cart/ buggy at the grocery store.
Let someone go ahead of you in line.
Check in on an elderly neighbor.
Participate in a charity walk/ run.
Tape change to a vending machine.
Share only positive stories on Facebook for a week.
Share about your favorite nonprofit on your social media channels.
Pay for a stranger's parking in a parking deck or surface lot.
Randomly "feed the meter" for on-street parking spots.
Pay for someone's bus or light rail fare.
Organize a toiletry drive for the homeless.
Purchase a bus pass and donate to The Salvation Army Center of Hope.
Purchase birthday gifts for a homeless child through Bright Blessings: http://www.brightblessingsusa.org/wish-list
Donate used furniture and clothing to a Salvation Army Family Store.
Leave your waiter or waitress a generous tip.
Prepare a meal for a family in need.
Donate blood to the American Red Cross. www.redcross.org
Offer to babysit for a couple with kids.
Bring a friend their favorite hot or cold beverage.
Eat with someone new at lunch.
Start a job-shadowing program at your office.
Join a local Habitat for Humanity home build: https://www.habitatcharlotte.org/volunteer/volunte…
Volunteer your time to serving customers in the Crisis Assistance MInistry's Free Store: https://crisisassistance.org/volunteer/main/
Pray for someone in the news.
Become a champion for the United Way campaign at your office.
Make dinner for a friend
Donate board games or DVDs to the USO of Charlotte: https://northcarolina.uso.org/charlotteintlairport
Comments
comments