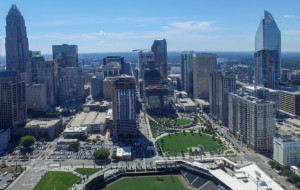 If you've driven through South End within the past 6 months, you've undoubtedly noticed the crazy amount of growth – new apartment complexes as far as the eye can see.
With the new light rail extension now complete, the same type of growth is expected all along Tryon St. and North Davidson St.
In addition to dozens of new apartment complexes approved, our city is also planning to build the new 1,300 acre river district, and the $683 million "Brooklyn Village" in Uptown.
According to many economists, by the year 2025, the greater Charlotte metro region will be home to over 2.8 million residents – the 10 county metro region now has 2.4 million residents. Within the city limits, our population is expected to grow from 827,000, to over 1.2 million in that same time.
Without any major new road projects (other than toll roads), and additional public transportation projects now only in the planning stages, our current growth levels could soon become unsustainable.
To put our current numbers in perspective, the company SpareFoot has put together a density comparison between Charlotte and other major cities around the world (most have far more transportation options than we currently do).
"Note that Charlotte's city limits were used for this visualization, not the metro area. While some readers may object to the exclusion of surrounding locales, metro areas are not as well defined as city limits and that is often a matter of debate itself."
Via SpareFoot Charlotte
How do you feel about Charlotte's growth? 
Comments
comments