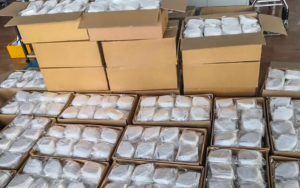 NC MedAssist is the only statewide non-profit pharmacy in North Carolina celebrates their 25th Anniversary of Dispensing Hope to the residents of North Carolina. They provide prescription and over-the-counter medications to neighbors in need at no cost, believing that no one should ever have to choose between purchasing food or buying their medicine.
NC MedAssist began in 1997 (as MedAssist of Mecklenburg) through the efforts of the Mecklenburg Medical Society Alliance with the assistance of a $55,000 grant from the employees of Presbyterian Hospital.  The mission was to serve low-income, uninsured, senior adults in Mecklenburg County with prescription medication coverage.
In 2005, they expanded their program to include all adults in Mecklenburg County.  Four years later, through a grant from the Attorney General's Office, MedAssist developed the Free Prescription Pharmacy Program for the entire state of NC and changed their name to NC MedAssist.
Their Free Pharmacy Program now provides free prescription medications to North Carolina residents who are uninsured and fall at or below 300% of the Federal Poverty Level.  This statewide program is the answer for those who do not have the means to obtain life-saving medications to treat chronic diseases such as heart disease, diabetes, and asthma.
In 2012, they were presented the opportunity to distribute over-the-counter medication through a relationship with Second Harvest Food Bank – their Mobile Free Pharmacy Program was soon born. In 2021, they held 50 events in 40 different counties and served almost 49,000 individuals.
NC MedAssist has served 69,095 neighbors in need through various programs dispensing over $65 million in prescription and over-the-counter medications in the last year.
You can earn more about NC MedAssist at www.medassist.org.
Comments
comments