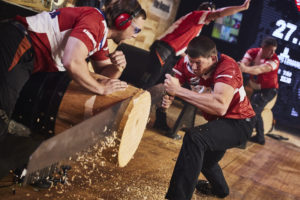 Charlotte's own Matt Slingerland has just helped Team USA win the broze metal in the biggest lumberjack sports competition in the world.
He was part of Team USA as they battled the best teams in the world for supremacy in the sport at the 2019 World Championship in Prague.
In the small final, Team USA triumphed, while Poland snatched fourth place to take the position of the highest placed European team.
Speaking of his Championships, team USA veteran Matt Cogar commented: "I've been coming here for ten years and the feeling gets better and better every time. You can't beat that feeling and that excitement up on the stage. My teeth are just tangling – it's that good."
Outside of the top four the Czech Republic battled towards a fifth place showing, no doubt buoyed by an incredible home crowd that generated quite the atmosphere.
This coming Saturday, the top 12 athletes in the world return to Industrial Palace to compete across all six disciplines in the Individual Event.
Comments
comments