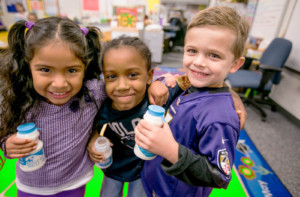 Charlotte's Fifth Third Bank will celebrate Fifth Third Day by working to provide 5.3M meals to people facing food insecurity. Locally, he meals will be donated to 11hunger relief organizations across the Carolinas as part of Fifth Third's annual companywide community celebration in May, centered on May 3. The Bank recognizes the date, 5/3 on the calendar, as Fifth Third Day.
"We are honored to serve our community by helping to provide meals for those who are dealing with food insecurity," said Lee Fite regional president of Fifth Third Bank. "We are proud to play a part in fulfilling the Bank's commitment to serving our communities."
The Bank has celebrated Fifth Third Day since 1991, and since 2012 the Fifth Third and its employees have worked toward a common goal to fight hunger. This year's theme is tackling food insecurity one community at a time. The goal is to help provide 5.3 million meals- of those, 1.5 million meals* will go directly to Feeding America® and the remaining meals will be provided through efforts supporting local hunger relief organizations throughout the Banks footprint. Customers also will have an opportunity to support hunger relief by purchasing shields for $1 at all Fifth Third locations.
During the month of May, Fifth Third employees in the Carolinas, will be participating in various volunteerism efforts with the following organizations:
Second Harvest Food Bank of Metrolina
For the Struggle Food Pantry
First Baptist West/Charlotte CSA
Ada Jenkins Center Food Pantry
Food Bank of Central & Eastern NC
Oak City Cares Food Pantry
Feeding Avery Families Food Pantry
Lincolnton Christian Ministries
Loaves & Fishes of Greenville, SC
For the last four years, Fifth Third has collaborated with Feeding America and member food banks to serve communities. The organization estimates at least 60 million people turned to food banks, food pantries and other private food assistance programs during the health and economic crisis. The Feeding America network has continued to provide food for families across the country.
"Collaborating with companies like Fifth Third helps Second Harvest supply food and grocery items to charitable agencies that assist people in need as well as provide training, technical assistance and hunger education to our partner agencies." said Kay Carter, CEO, Second Harvest.
"Engaging in volunteerism activities on Fifth Third Day gives our employees opportunities to provide food to families in need," said Melissa Stevens, executive vice president, head of digital and marketing, and Fifth Third Day corporate champion. "I'm excited to see our company involved in efforts that are changing lives one person and one organization at a time."
Comments
comments