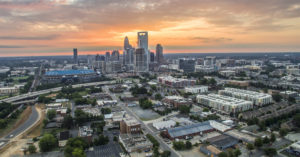 The City of Charlotte and Mecklenburg County have just completed their most recent property revaluation. It was the first city-wide revaluation since 2011.
Most properties in Charlotte saw a dramatic increase in their appraised value, increasing the property taxes most Charlotte residents will likely pay going forward. The median increase for appraised values of residential properties around Charlotte was 43%.
One of the highest adjusted areas was along the North Davidson corridor, including the Belmont, Villa Heights, and NoDa neighborhoods. Those neighborhoods saw a combined average valuation change of just over 125% between 2011 and 2019.
One of the more extreme examples is 839 Drummon Ave. in Villa Heights. The property was last appraised in 2014 (in a special revaluation review) for $65,300. Taxes on the home have been about $860 per year since 2014. The home has not been sold or significantly renovated since 1978. Last month, the home was reappraised for $303,400 (a 365% increase in 5 years). Taxes on the home could now be around $3,980 per year*.
Some properties, however, went down in value, and will likely see a corresponding drop in their taxes going forward.
One such property is 4217 Grove St., a 2.35-acre piece of land that border's Charlotte's Ribbon Walk Nature Preserve. The property was last appraised for $49,700 back in 2013 and the tax bill on the property was $652.01 per year. In 2017 the property sold for $35,000, and largely due to that recent sale, it was just reappraised at $36,600, meaning the tax bill could be around $480 per year* going forward.
You can find out your new appraised price by searching by your name, property address, or parcel number here;
You can find out what your new taxes might be going forward using this form*;
(*estimates based on 2018 tax rate – the city and county will likely adjust the rate this coming Spring – Charlotte rates have fluctuated between 1.15 – 1.50 per $100 since 2003)
If you do not agree with your new revaluation and you would like to submit an appeal, you can fill out and submit an appeal form on the city's website here. The appeal form deadline is May 20th, 2019.
What are your thoughts on our city's latest property revaluation?
Comments
comments