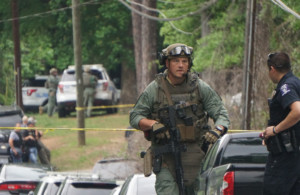 Early this afternoon the Charlotte SWAT team was called to a East Charlotte apartment complex to help arrest a man who had barricaded himself inside one of the units with a woman and her child.
The investigation initially started at around 1:23pm after police tried to serve several outstanding warrants on 30-year-old Kendrick Parry, according to CMPD. One of the warrants was for assaulting an officer with a deadly weapon.
The SWAT unit arrived on scene at around 3pm:
The SWAT Team and Negotiators are currently on scene in the 3800 block of Frontenac Avenue in reference to a barricaded subject.

— CMPD News (@CMPD) April 27, 2017
The altercation initially began this morning on East WT Harris Blvd. during a routine traffic stop. When they ran Parry's licence, officers were told that the driver had felony warrants and a probation violation.
The moment they told Parry to step out of his vehicle, he began to drive off, dragging dragged one of the officers about 20 feet with his car, according to CMPD. He then barricaded himself inside an apartment at the end of Frontenac Lane with a woman and her child.
Here a video taken by one of the neighbors of the standoff and arrest of Parry:
Around 5:16 p.m. this evening, SWAT and CMPD officers were able to peacefully arrest Parry and take him into custody.
This standoff has been resolved peacefully. Suspect, Kendrick Parry, has been taken into custody for outstanding warrants.

— CMPD News (@CMPD) April 27, 2017
Comments
comments