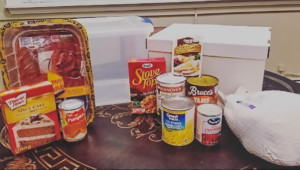 The Charlotte Rescue Mission is now asking for help with their annual Thanksgiving Food Box Drive. Every year the mission gives out hundreds of "Thanksgivings-in-a-box" to needy families all across our city.
It will run from Nov. 6th – Nov. 23 with dozens of volunteers needed for a variety of tasks.
"from providing Thanksgiving Food Boxes to serving on our campus for our Thanksgiving Community Meal" (you can see all the needed positions here).
"Packing these food boxes does more than allow another family in Charlotte to enjoy a Thanksgiving meal," Charlotte Rescue Mission Director Tony Marciano said in a statement. "It creates an opportunity for a family to sit around their table to make memories that last a lifetime."
If you'd like to donate a box, the Rescue Mission asks that you include the following items;
Green beans (38 ounce can); whole kernel corn (29 ounce can); cut sweet yams (40 ounce can); cranberry sauce (14 ounce can); Stove Top stuffing (6 ounce box); turkey or brown gravy mix package; Spice Cake Mix (1 box) and canned pumpkin — not pie filling (15 ounce can). They also ask donors to supply a 9″x13″ baking pan.
Comments
comments