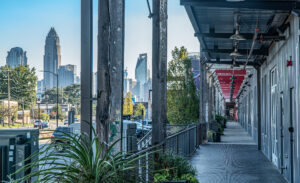 Existing-home sales slipped in September, falling 2.3 percent year-over-year as 5,108 homes sold across the 16 counties that make-up the Charlotte region. Data from Canopy MLS, showed this time last year, there were a little more than 5,200 single-family and condo/townhome sales during the month of September 2020. Month-over-month, sales were down 4.6 percent compared to sales in August 2021.
Buyer activity remains steady throughout the region, as displayed by the 3.9 percent year-over-year increase in pending sales, that showed 5,283 homes under contract during the month versus 5,084 that were under contract this time last year. Contract activity is down 10.5 percent compared to August 2021. New listing activity cooled a bit, falling 3.7 percent year-over-year as sellers across the region listed 5,466 homes for sale compared to 5,675 that were listed in September 2020. Still, year-to-date figures show sales across the region at a healthy level and likely to surpass 2020 sales.
"This past month's home sales activity is typical for this time of year." said David Kennedy, president of Canopy Realtor® Association/Canopy MLS. "Buyers and sellers with families and school-aged children generally settle into back-to-school routines and fall activities. So, it's not unusual to see a slight dip in sales around this time of year. Even though inventory is still critically challenged, there are still opportunities for those looking to buy, as buyer competition tends to be a little less frenzied as we move into the fall, just ahead of the holidays."
Inventory in September was still challenged and fell 37 percent year-over-year leaving a little over 4,100 homes for sale and 0.8 months of supply, which is approximately 24 days of supply at the current sales pace. Last September there were more than 6,500 homes for sale or 1.4 months of supply.
Tight inventory will continue to impact prices.  Both the median sales price ($335,000) and the average sales price ($388,917) rose 15.9 percent and 11.7 percent year-over-year respectively, while the average list price rose 13 percent year-over-year to $408,619.  This brought the original list price to sales price ratio to 101 percent in September, showing sellers throughout the region getting well over asking price for their homes.
"Continued migration into our market heightens the need for inventory," Kennedy said.  "A continued uptick in sales prices reflects a buyer's need to outbid their competition for limited housing options. Interest rates will remain historically low in order to offset the rising sales prices, thereby allowing the ongoing monthly mortgage payments to remain relatively affordable for some, but not all buyers, particularly first-time and workforce buyers."
Homes are still selling quickly.  September 2021 sales data showed days on market until sale averaged 16 days compared to 30 days on market in September 2020.
Canopy Realtor Association provides monthly reports on residential real estate market activity for the Charlotte Metro region based on data from its subsidiary, Canopy MLS. The Charlotte Metro region, which this report is based on, consists of the following 16 counties: Alexander, Anson, Cabarrus, Catawba, Cleveland, Gaston, Iredell, Lincoln, Mecklenburg, Rowan, Stanly and Union counties in North Carolina; and Chester, Chesterfield, Lancaster and York counties in South Carolina.
Comments
comments