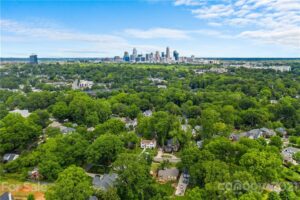 Residential home sales across the 16-county Charlotte region were steady in August 2021, according to data from Canopy MLS and rose 3.5 percent year-over-year as 5,356 homes sold compared to sales in August a year ago. Closed sales, which reflect single-family, condo and townhome data only, increased 3.2 percent month-over-month compared to sales in July 2021.
Pending sales, also known as pending contract activity continues to show steady buyer demand in the market.  August figures showed buyers drove 5,902 homes under contract during the month, a 6.9 percent year-over-year increase over last August's contract activity. Contract activity compared to the previous month (July 2021) had a similar increase of 6.9 percent month-over-month. Contract activity is generally a good indicator of future sales and shows that buyer demand for homes in the region is healthy.
New listing activity shows seller confidence favorable and rising 5.3 percent year-over-year as sellers brought 5,996 homes to market in August, which should help buyers with increased choice, since inventory is still critically low across the region. Month-over-month, new listing activity compared to July 2021 was down 4.6 percent.
Inventory challenges will continue to frustrate buyers. Inventory declined 38.2 percent year-over-year leaving 4,069 homes for sale or 0.8 months of supply (approximately 24 days) at the current sales pace. Last August there were more than 6,500 homes for sale or 1.5 months of supply.
"The Charlotte region continues to receive high marks for quality of life, job growth, and cost of doing business. Even more, the pandemic infused phenomenon of remote working drives even more buyers to the region, punctuating growth, and continuing the rise in housing demand. Recent census estimates bear this trend." said David Kennedy, president of Canopy Realtor® Association/Canopy MLS. "The market is complex, but with a Realtor®, buyers will have an easier time navigating the dynamics of frequent price changes in a low inventory housing market that still highly favors sellers."
Prices continue to rise in relation to inventory with all price indices seeing increases at summer's end.  Both the median sales price ($331,575) and the average sales price ($393,085) rose 14.3 percent and 12.2 percent year-over-year respectively.  The average list price increased 10.6 percent year-over-year to $396,648, bringing the original list price to sales price ratio to 101.5 percent in August 2021.
The breakdown of sales by price range is as follows: 159 homes sold in the price range of $120,000 & below; 168 homes sold in the price range of $120,001 to $150,000; 348 homes sold in the price range of $150,001 to $190,000; 707 homes sold in the price range of $190,001 to $250,000; 1,568 homes sold in the price range of $250,001 to $350,000; 1,402 homes sold in the price range of $350,001 to $500,000; 831 homes sold in the price range of $500,001 to $999,999 and 173 homes sold in the $1 million and up range.
"New listing activity has been a bright spot for prospective buyers in our market," Kennedy said.  "And over time, steady new listing activity will help replenish inventory; however, with rental rates increasing and supply in the more affordable price points severely diminished, it will take Realtor® leadership working alongside our city and county's policymakers, and homebuilders to help ensure we are doing all we can to continue to boost the supply of homes, especially for first-time buyers, workforce buyers and millennials that are starting to purchase."
August 2021 sales data showed days on market until sale averaged 14 days compared to 34 days on market in August 2020.
Comments
comments