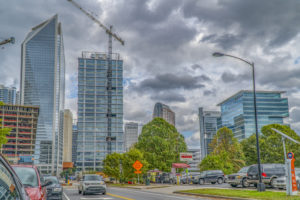 ApartmentList.com has just released their January rental report, showing that Charlotte was ranked as having the 8th fastest growing year-over-year rental growth.
Charlotte rents have remained flat over the past month, however, they have increased moderately by 2.6% year-over-year. Currently, median rents in Charlotte stand at $989 for a one-bedroom apartment and $1,154 for a two-bedroom. Charlotte's year-over-year rent growth leads the state average of 2.4%, as well as the national average of 1.4%.
Some additional highlights for Charlotte's market over the last month include:
Rents in Charlotte are the #8 fastest growth rate among the nation's large cities. For comparison, our national rent index grew by just 1.4% over the past year.
Since 2014, rents in Charlotte have grown by 18.9%, outpacing the national average of 11.3%.
The median rent for a 2BR apartment in Charlotte is currently $1,154 compared to the national average of $1,192.
To see Charlotte's full rental report for this month, click here.
Comments
comments