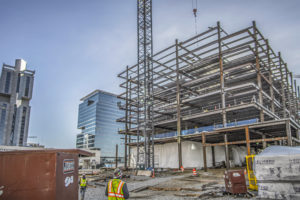 CommercialCafe just released their new 2023 state of the office pipeline, highlighting the largest office properties due for completion in 2023 across the largest U.S. markets.
The data used, gathered by CommercialEdge and extracted on January 26, 2023, includes only properties equal to or larger than 25,000 square feet.
Here are some key takeaways:
Charlotte ranks 3rd among the markets with the largest percentages of office space currently under construction within the overall inventory in the first quarter of 2023. Roughly 6.3% of Charlotte's current stock is made of new office developments.
This percentage translates into nearly 4.8 million square feet of new office space under construction in Q1 of 2023.
Charlotte claims 2 of 2023's top 20 largest office development projects currently under construction: the 1,025,000-square-foot Duke Energy Plaza property owned by Childress Klein – ranked 9th – that is estimated to reach completion in the first quarter of 2023, and the 800,000-square-foot 1030 Centene Court owned by Centene Corporation, ranked 15th, that is estimated to reach completion in the second quarter of 2023.
At a regional level, there are a total of 5 projects from the Southern region among the top 20 largest office deliveries of 2023. Besides Charlotte's entries, there are Virginia's HQ2 – Metropolitan Park 7/8 and its HQ2 – Metropolitan Park 6 properties along with Florida's 830 Brickell.

At a national level, a total of 135 million square feet of office space is currently under development.
You can get more information about the report here – https://www.commercialcafe.com/blog/office-pipeline-report/
Comments
comments