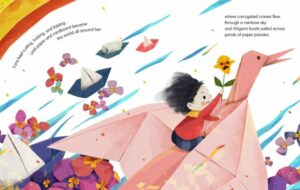 A creative new approach at a children's book has just been released from Charlotte-based children's author Marie Tang: Yuna's Cardboard Castles (on sale now).
The book follows Yuna and her family, who have just moved to the United States – she doesn't speak English yet, and her first attempts to catch the attention of the neighborhood kids get lost in translation. She then begins to show that she can do something very special with paper, and a whole new world unfolds.
Marie Tang and Jieting Chen have brought Yuna's origami creations to life in this whimsical, magical picture book, where the language of play can bridge the language barrier and build new friendships. Back matter includes information about the origin of origami and instructions for kids to fold their own paper boat.
Marie will host an official book launch Park Road Books with a storytime and book signing on Saturday, January 28, at 11 am. Following the storytime, Marie will also show children how to create their own origami craft using her creative new book.
Comments
comments