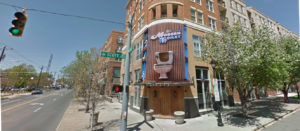 With Charlotte now ranked as one of the top 10 food cities in America, our culinary spectrum is starting to expand into some truly adventurous realms.
One restaurateur is now hoping to capitalize on our growing foodie culture and Instagram-crazed generation by opening the world's first "toilet-themed" restaurant right here in the Queen City.
The new 11,000 sqft 'Modern Toilet' is opening in the old 131 Main location, next to The People's Market and across the street from Starbucks. They held a soft opening this past weekend for a select number of popular Instagrammers, serving them;
Curry Chicken in a tiny little toilet;
a tasty version of meatballs 4-ways;
spiraled chocolate ice cream for dessert;
and to wash it all down – a portable urinal filled with mango juice;
The restaurant even fashioned their bathroom sinks out of old toilets;
Grand Opening is set for April 1st, 2019.
Please note that this article was written for April Fools Day, the Modern Toilet is actually a surprisingly popular restaurant in Taiwan – sadly there are no current plans to open a location in Charlotte.
What currently resides at the corner of Scott and East Blvd is The People's Market – one of Charlotte's favorite hangout spots featuring incredible sandwhiches, wraps, and soups, as well beers, snacks, and other goodies. Read more on the in-depth article we wrote about them last year here.
Comments
comments