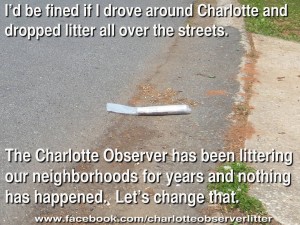 There is now a growing movement of angry Charlotteans who continue to receive unwanted publications in their yard. The unwanted deliveries include daily editions of the Observer, the "Observer Values", the "Observer Encore", and The South Charlotte News – all owned, operated, and delivered by the Charlotte Observer.
The Facebook group "The Charlotte Observer is Dropping Litter All Over My Neighborhood" now has 277 members. The group was started last May for residents to share their frustrations and ideas about how to get the deliveries to stop.
Many have turned to the Better Business Bureau for help – out of the 178 complains filed against the Charlotte Observer on BBB.com, 68 of them specifically address "delivery issues", including the continued delivery of unwanted papers.
There is even now a Change.org petition to stop the Observer from littering in South Charlotte.
The petition notes that, "Charlotte residents are tired of the "litter" polluting our properties and streets in the form of the "South Charlotte News" we are asking for its delivery to cease completely. No one wants it and we have requested it be dealt with individually for some time."
Comments
comments