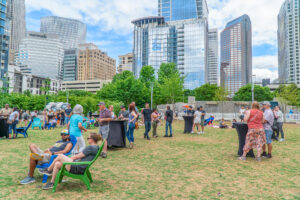 America's high-income earners seem to be getting a real taste for renting, according to RentCafe's newest study. Renters with an annual income of more than $150,000 nearly doubled in five years, reaching a total of 2.6 million. Among them, an unlikely new kind of renter is gaining ground: the millionaire.
Charlotte is at the forefront of this trend, boasting the largest number of high income renter households in all of North Carolina, followed at a great distance by The Triangle and Greensboro. More so, it landed on the 8th spot in the national ranking.
Here are some key-highlights:
In Charlotte, 

the number of rich renter households sky-rocketed by 87%

 between 2015 and 2020. Consequently, the city 

reached a high of 9,452 well-off renter households in 2020 

(compared to 5,052 just five years prior).

Meanwhile, 

home prices  increased by 37%

, leaving even those who can afford to buy (despite surging mortgage rates) with an appetite for renting.

High-income renters represent

 

6% of the city's total renter population

, which is the 2nd highest share in the state.

Despite its growing high-income renter population, 

Charlotte didn't secure a spot in the nation's 

top millionaire renter hotspots

, where major urban areas such as New York, San Francisco and Los Angeles took the lead. 
Nationwide, the number of renters with annual incomes of more than $150,000 grew by 82% between 2015 and 2020. That's faster than renters overall, who inched up by a mere 3.2%. What's more, the number of millionaire renter households tripled during the same time frame.

Curious to find out more about the nation's rich renters? Here's the full study, along with the  detailed methodology: https://www.rentcafe.com/blog/rental-market/market-snapshots/millionaire-renter-households-triple-in-numbers/
Comments
comments