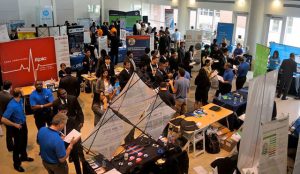 Local nonprofit GardHouse has reached its latest milestone with the launch of its largest cohort of interns. The Charlotte-based organization recently welcomed 40 students into the program that develops college students of color for employment through work-based learning, career coaching and financial literacy.
"We supported nine students last year, so to see such a large increase in student participants lets me know that GardHouse is on the right track as a training hub for talent," said Jonathan Gardner, founder and executive director of GardHouse. "We're happy to provide the resources needed to support our students and reach that next level."
GardHouse partners with Charlotte-area small businesses and nonprofits to provide paid internships at roughly $20 an hour and span 16 weeks — organizations include the Latin American Chamber of Commerce and 100 Black Men of Charlotte, among others. Since its inception in 2019, GardHouse interns have garnered more than 1,200 internship hours. The organization also offers financial literacy workshops for students throughout the academic semester led by corporate partners such as Bank of America, Wells Fargo, Ally and Commonwealth Charlotte.
Gardner founded the organization after learning that over the last five decades, college students of color are twice as likely to be unemployed after graduation compared to their white counterparts. Gardner was also motivated to provide a solution after reports showed Charlotte ranking last in upward economic mobility.
GardHouse plans to welcome 70 interns into its 2023-24 cohort. In the coming weeks, the organization will host three virtual interest meetings for business owners and nonprofit leaders to learn how becoming an employer partner can benefit interns and employers. Sessions will be held on the following dates:
Thursday, Oct. 20, 11 a.m. to Noon
Thursday, Oct. 27, 11 a.m. to Noon
Thursday, Nov. 3, 11 a.m. to Noon
Those interested can register here.
Comments
comments