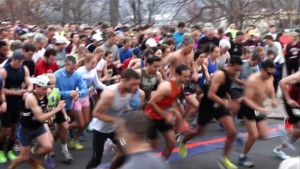 Charlotte New Year's Day 5K and Fun Run will return for race enthusiasts to complete their first 5K in 2022. Participants of all ages are invited to run or walk the LYNX rail line in University City on January 1, 2022. The second annual event will begin at 10 a.m. and end with a New Year's Day celebration and brunch–pancakes, craft beer from Armored Cow Brewery, mimosas, hot cider, music and family fun.
"Charlotte New Year's Day 5K is a festive run and start to the new year," said Interim Executive Director of University City Partners, Tobe Holmes. "The first annual race saw a great turn out of high-energy participants of all ages. Many ran and others walked on their own, or with a cane or wheelchair. Families and friends cheered on their loved ones and we celebrated in style. That's the way to ring in the new year–joyful, inclusive and supporting each other."
Race participants will meet and begin the Charlotte New Year's Day 5K at the Charlotte Mecklenburg Police Department University City Division Station on N. Tryon Street. The race will end at McCollough Commons. At the finish line, participants will enjoy food and drinks to celebrate their accomplishment and ring in the new year.
Race entry prices range from $30 to $45 for early, regular, same day and VIP registration. Limited VIP tickets secure two post event mimosas and a commemorative glass to toast the new year in a heated tent. Every registered participant will receive an all-day pass to ride the LYNX, and can take the train to the starting line or park at McCollough Station.
Charlotte New Year's Day 5K is presented by Atrium Health and raises awareness about hunger challenges in Charlotte. The race proceeds will benefit Hope Street Food Pantry, which serves hundreds of families in need. Registration details and more information can be found at cltnewyearsday5k.org.
Comments
comments