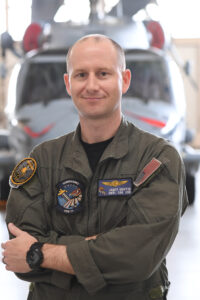 First Class Petty Officer James Griffin, originally from Charlotte, North Carolina, is currently serving the United States Navy as part of a helicopter squadron based in Japan.
A South Mecklenburg High School graduate of 2003, Griffin enlisted in the Navy 12 years prior.
Griffin expressed his motivations for joining the Navy as a desire to serve his country, see the world, and further his education.
Now, Griffin holds the role of naval air crewman-tactical helicopter within the Helicopter Maritime Strike Squadron (HSM) 77.
The Navy's core skills and principles echo those he acquired growing up in Charlotte.
"One of the lessons I learned in Charlotte is the importance of hard work," said Griffin. "Working multiple jobs taught me the importance of being responsible, having interpersonal skills and managing my own money.
HSM 77 members are responsible for flying and maintaining Navy helicopters, which are used in a variety of operations such as search and rescue, air assaults, medical evacuations, supply transport, and submarine detection.
Comments
comments