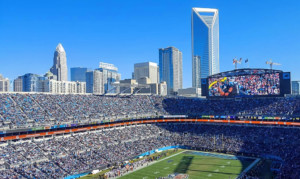 On August 24, 2018 the Charlotte Area Delta Gamma Alumnae Chapter members are taking 10 visually impaired veterans to the Carolina Panthers/New England Patriots Preseason Game.
The Charlotte Area Delta Gamma Alumnae Chapter invited Carolina Low Vision and Aira to bring devices such as their Jordy glasses and Aira headsets, respectively, to allow the visually impaired veterans to see the game or hear play-by-play descriptions in real time.
Delta Gamma's philanthropy, Service for Sight, began in 1936. Service for Sight: Joining Forces is an adjunct to Service for Sight. The purpose of this initiative is to present a vehicle for collegians and alumnae to support and give back to service men and women who have experienced vision impairment, eye trauma or vision loss. This is accomplished through service provided by collegiate chapters, alumnae groups and individual members throughout North America, as well as through philanthropic grants provided by the Foundation to organizations that share this mission.
Carolina Low Vision is bringing the latest in wearable low vision technology by Enhanced Vision, Jordy glasses, for the visually impaired veterans with low vision. Enhanced Vision is a leading developer of assistive technology for the visually impaired. Jordy is the ideal solution for an active lifestyle, enabling the visually impaired to see their environment. Jordy is a battery-operated, full-color portable system that can be worn like a pair of glasses to see near, far, and everything between.
For the blind veterans with no sight, Aira will provide an audio play-by-play description of the game in real time. Aira is a service that uses artificial intelligence and augmented reality to connect people to highly trained, remotely-located agents. At the touch of a button, Aira delivers instant access to information, enhancing everyday efficiency, engagement, and independence.
This Friday night's game starts at 7:30 at the Bank of America Stadium – tickets are still available here on StubHub starting at $39 each.
Comments
comments