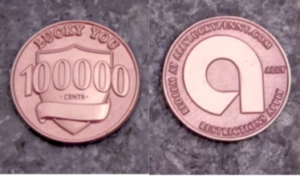 Charlotte's Ally Bank is joining in their nationwide campaign of dropping "fake pennies" – they can be redeemed for $1,000 by anyone who finds one.
Ally Bank says it is hoping to encourage Americans to look for opportunities to save through its "Lucky Penny" promotion, which launched this week. The have a copper color like real pennies, but feature the bank's logo instead of Abraham Lincoln's head. The flip side of the coin lists its value (100,000 cents)
"It's important for everyone to understand that routinely saving, even the smallest amounts, is important to generating wealth over time," Diane Morais, chief executive officer and president of the Ally Bank subsidiary, said in a statement.
The bank also noted that it would be offering hints as to where the promotional pennies might be found on social media, here's the most recent clue for Charlotte:
Charlotte friends, keep your eyes peeled for an #AllyLuckyPenny hidden around Charlotte! Find one and claim $1000! Hint: check the racetrack

— Kaleigh (@kaleigh__lynn) October 19, 2016
The coins can be redeemed online until the end of 2016.
Please let us know if you find one!
Comments
comments