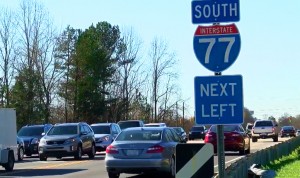 The NCDOT is about to add another lane to I-77 North to ease in congestion during rush hour.
At a meeting yesterday, the Charlotte Regional Transportation Planning Organization officially approved the NCDOT request to add the extra lane by allocating $47 million from other road, bicycle, and pedestrian projects across the state.
The new project will convert the shoulder between I-485 in Huntersville to Highway 150 in Mooresville into a temporary rush-hour lane that will open during high-congestion times.
According to the Turnpike Authority, emergency responders will be able to drive over the white sticks separating the lanes to get around traffic during emergency situations when the shoulder is being used as an extra lane.
Construction on the new shoulder/lane will start once the toll lanes are completely finished.
What do you think about the new plan? 
Comments
comments