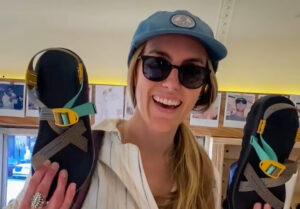 Chaco Footwear is on tour and is in Charlotte from April 21-25 at Camp North End – The Keswick District.
Charlotteans will have the chance to meet the ReChaco Roving Repairs Bus- a vintage school bus turned mobile factory. Chaco will be offering free repairs for most Z Sandals and there will also be an array of exclusive webbings and components for consumers to custom design Z/1 Sandals and Chillos.
What: Stop by the party to create your own custom pair of Chacos (we will comp the cost for you!)
When: April 21-25th 2022 – the bus is open from 12-6pm
Where: Camp North End – 1701 N. Graham, Charlotte, NC 28206
How: If you are interested in stopping by please let me know and we will have someone from the team ready for you.
They also will be at Tuck Fest April 29-May 1st.
Learn more here: https://www.chacos.com/US/en/tour/
Comments
comments