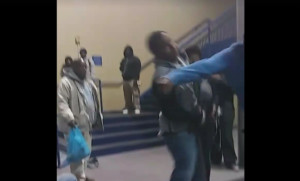 This past Friday, Johnson and Wales University student Solomon Gilliam posted a video he took on his cell phone of a fist fight between an elderly man and a young man in his 20s at the Charlotte Transit Center in Uptown.
The young man seems determined to hurt the old man, but several bystandards continue to intervene, then at about 2:50 minutes into the video, the young man gets a truly shocking surprise:
The video has already been viewed over 9 million times and shared over 140,000 times in less than 4 days (original post here).
An important lesson in what could happen if you don't respect your elders!
Comments
comments