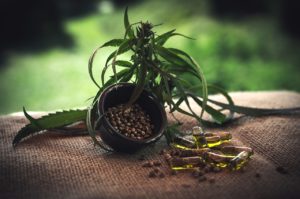 With the rapid rise of cannabis-derived products due to the reauthorization of the 2018 Farm Bill that allows for the production and regulation of industrial hemp, many are looking to cannabis for their very own organic panacea. The most recent CBD product in the market is CBD capsules softgels. 
Though of course cannabis or any product derived from them are far from being a cure-all, many of the hundreds of active cannabinoids in cannabis boast a list of potential health benefits, starting with cannabidiol.
Unlike THC, CBD does not contain any psychoactive properties. The best CBD products like softgels don't have the risk of abuse or dependency. 
What are CBD Capsules?
Among the many kinds of CBD products making their way into the health community is the popular CBD capsules. Many take CBD softgel capsules for their daily dose of vitamins and minerals, including the possible benefits of hemp.
According to many advocates, CBD softgel capsules may have several health benefits, but these statements have not been evaluated by the Food and Drug Administration.  
CBD capsules could help relieve stress and anxiety, making users relax and even improve sleep quality at night. Relief from chronic muscle or joint pains, as well as headaches and migraines, could be managed. 
CBD Capsules vs. CBD Softgels
In order to create CBD capsules and softgels, high-quality CBD oil is mixed with organic MCT oil, a coconut oil extract, to provide volume to each capsule. 
The main difference between CBD softgels and CBD capsules is with their outer covering. CBD capsules are covered with a film-like matter, not unlike many over-the-counter medicines. 
CBD gel capsules are softgels covered with a gelatin shell for an outer layer. They are easily broken down by stomach acid.
Broad-Spectrum CBD Softgels
Broad-spectrum CBD capsules contain a diverse spectrum of cannabinoids, terpenes, and flavonoids found naturally in hemp plants, except for THC. Other cannabinoids such as CBN, CBG, CBC, and others may also provide health benefits.
This could create the "entourage effect" which helps in achieving more health benefits together than CBD does alone. 
Ingredients
Formulated with organic hemp extract and all-natural fractionated Coconut Oil (MCT Oil), all high-quality CBD products must be lab-tested, made from United States-grown cannabis, and have less than 0.3 percent tetrahydrocannabinol (THC). 
No CBD product has been approved or evaluated by the FDA.
CBD Capsules 25 mg
To ensure quality and get your money's worth, CBD Capsules Softgels 25mg must be distillate softgel capsules with all-natural organic ingredients that are quickly absorbed by the body for maximum bioavailability.
In buying any CBD product, quality is important and should always have the following qualities:
100% Natural and Organic Hemp Product

Formulated for Maximum Bioavailability

Hemp Strain Grown and Made in the USA

Third-Party Tested for CBD Purity and Potency
Each CBD softgel contains 25 mg of organic CBD oil and is easy to pack and carry. One to two capsules per daily dose gives the immune system a good boost for an energized day. To ensure quality, you may access the test results in their respective product pages. 
CBD Softgel Benefits
CBD softgel capsules may have many health benefits including quick relief from mild to moderate types of pain. Research also shows that CBD could help mellow down anxiety and bouts of mood swings with little to no side effects.
CBD may ease stress and tension so sleep is easily attainable. Sedative-like effects do not cause drowsiness but instead helps users relax and wake up feeling refreshed instead of disoriented. The best CBD capsules for sale may help users address these concerns
CBD Capsules Benefits
There is a myriad of health issues that may be addressed using CBD softgel capsules. It could range from better moods to curbing nausea. Studies, however, have yet to unfurl the full potential of CBD and its possible effects on the body.
The right dosage varies from person to person, effectivity is achieved when CBD is taken daily and consistently as part of your health regimen. 
One to two 25mg CBD capsules is packed with enough cannabinoids, flavonoids, terpenes, vitamins, and minerals to potentially address certain health issues and provide the body with many health benefits.
There is no need to worry about overdosing on the best CBD oil as there are no known cases of an overdose on hemp, according to the WHO.
It would be best for pregnant or nursing people and those with complicated medical histories to consult with their physicians first before partaking in any CBD regimen.
A hemp routine for at least 30 days, or as recommended by your healthcare provider, is advised to achieve desired effects and benefits of CBD. Non-GMO, gluten-free and vegan-friendly, CBD softgel capsules help with supporting the balance of the body and wellness of the mind.
Comments
comments