CATS is about to take a fresh look at the highly anticipated 'Red Line' light rail line up to Lake Norman.
They just launched a new study into the feasibility and demand of a high-speed commuter rail to the north. Over the next 2 months, CATS will be working with Cornelius, Davidson, Huntersville and Mooresville to evaluate current transit modes, land-use, and light rail cost vs. values.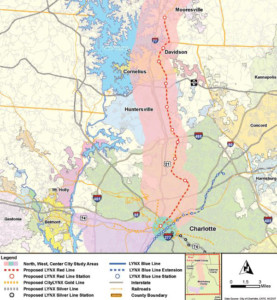 One of their major focuses of the study will be to collaborate with towns in the LYNX Red Line corridor to gather as much public feedback as possible regarding values and transit preferences.
They will be holding the following public meetings to hear from the public and see what kind of demand there is for a light rail to Lake Norman;
Tuesday, October 17
Cornelius Town Hall
21445 Catawba Avenue, Cornelius NC
6-7:30 p.m.
Thursday, October 19
Camp North End
1776 Statesville Road, Charlotte NC
6-7:30 p.m.
Tuesday, October 24
Charlotte Water- Dukes Treatment Plant
7980 Babe Stillwell Farm Road
Huntersville, NC
6-7:30 p.m.
Thursday, November 9
Charles Mack Citizen Center
215 N. Main Street
Mooresville, NC  28115G
6-7:30 p.m.
Wednesday, November 15
CharMeck Library (Uptown)
310 North Tryon Street, Charlotte NC
11:30a.m. – 1:00 p.m.
Thursday, November 16
Mecklenburg County Bar Association
2850 Zebulon Avenue, Charlotte NC
6-7:30 p.m.
They will also be re-evaluating light rail lines to the west, southeast, and more streetcar lines around Center City.
At the end of the study, CATS will present the affected cities and the State of North Carolina with their proposed 2030 Plan: a LYNX Red Line rail alignment, a LYNX West Corridor rail alignment and an Uptown rail integration plan for the various rail lines through Center-City Charlotte.
Comments
comments