As Hurricane Irma continues to fly toward the Caribbean and Southeastern coastline, it continues to strengthen in both wind speed and atmospheric pressure.
Yesterday afternoon, Irma officially became the first Category 5 hurricane of 2017, and based on its current pressure, the storm can now be ranked as one of the most powerful storms of all time.
Here is a list of the most powerful Hurricanes over the past 100 years;
Early this morning Irma landed a direct hit to the Island of St. Maarten (about 100 miles east of the Virgin Islands).
Here is live video footage from the storm;
#LIVE footage of #HurricaneIrma destroying https://t.co/TUjTdYPyRR in #StMaarten We will #rebuild! @sxmtweets pic.twitter.com/j2IoIGFSuH

— PTZtv (@PTZtv) September 6, 2017
Since Irma made her first contact with land, the storm models have shifted ever-so-slightly to the east, increasing the chance that it might miss Florida and make its first landfall in the Carolinas.
As of this morning, the spaghetti models from the ECMF and the GEFS are both showing a center track toward South Carolina;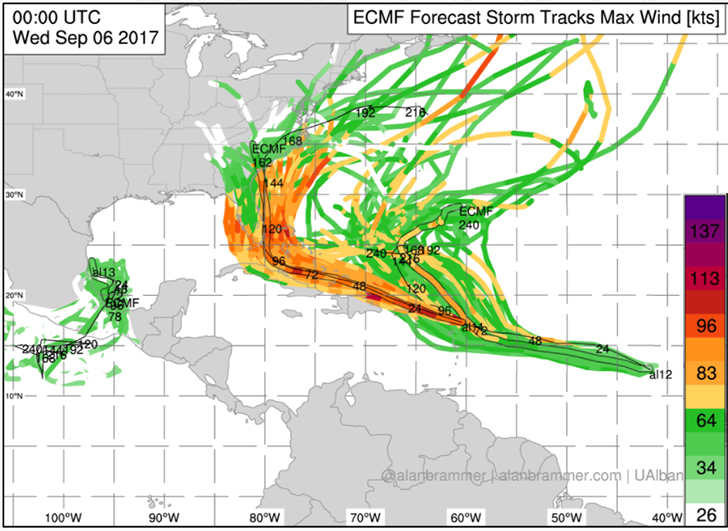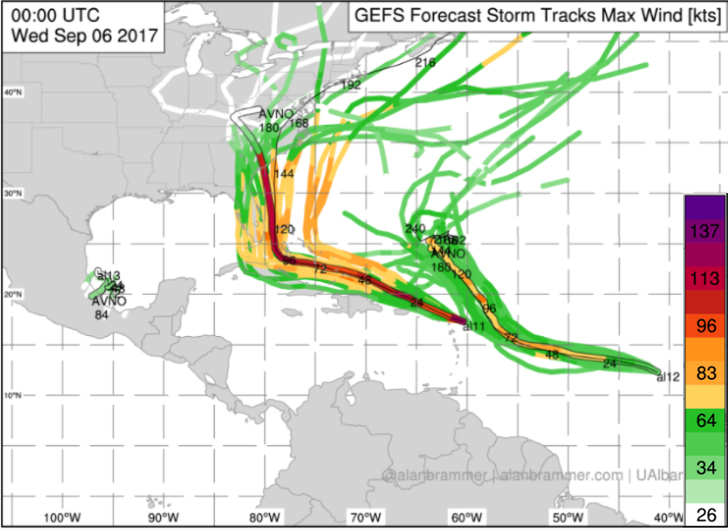 If Hurricane Irma does make landfall in South Florida, it will significantly slow the storm down before it reaches the Carolinas, but if it misses Florida to the East, it will maintain most of its wind speeds.
VenturSky's model now shows the storm making landfall in Northern Georgia/Southern South Carolina at around 11am on September 11th;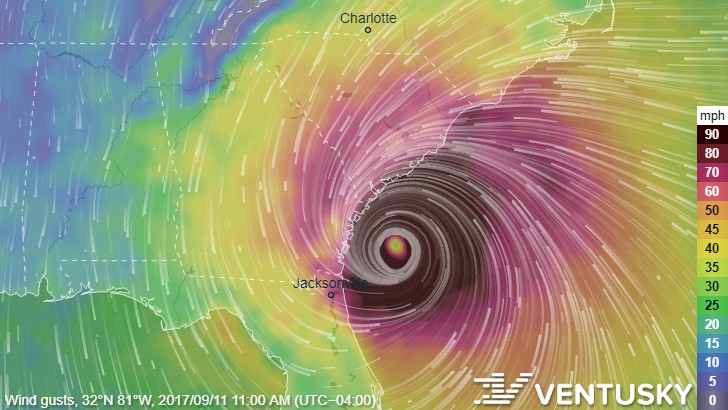 If this morning's VenturSky model doesn't change (very unlikely, since we are still 5 days out), Charlotte would feel the strongest effects of the storm at around 11pm on September 11th;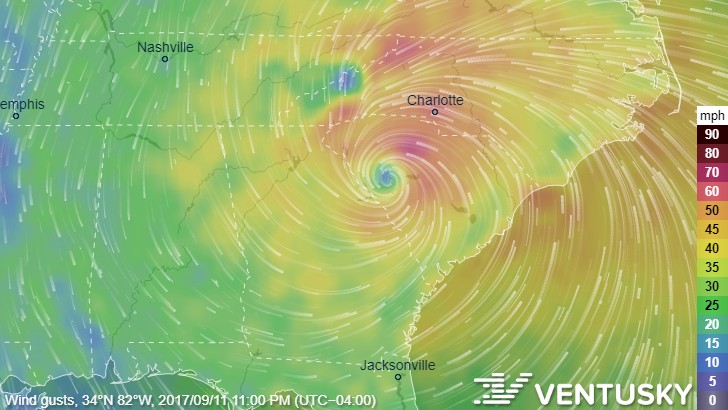 According to the National Hurricane Center, South Carolina should expect to feel its first tropical-storm-force winds by Sunday morning (even if it does make landfall in South Florida);
There is still a chance the storm can miss the continental United States altogether, but it's always better to be prepared than surprised.
The best way for Charlotte residents to prepare at this point is to make sure their hurricane supply kit is stocked and ready to use in case you lose power or get stuck in flash flooding.
Duke Energy recommends the following items (available via 2-day shipping on Amazon.com if your local store has already been cleaned out);
Cash (ATMs may not work)
Car charger for cell phones and other devices
Clean drinking water (recommended 1 gallon per person per day, minimum three days)
Batteries: Extra batteries for all of your devices
Do you have each of these items in your emergency kit? https://t.co/HKuYoaV91Z pic.twitter.com/YeapfWh0jS

— Duke Energy (@DukeEnergy) April 5, 2017
Other items to consider would be candles, matches, blankets, extra clothes, and self-defense weapons (for protection against possible vandalism/looting).
Please report any power outages by calling Duke Energy at 1-800-769-3766, or by submitting the outage online here. You can check the status of current power outages here.
UPDATE 9/6/2017 11:30am:
The National Hurricane Center has now updated their 'cone forecast' to reflect the new models with a more easterly path;
UPDATE 9/6/2017 1:00pm:
The governor of South Carolina has just issued a state of emergency ahead of Hurricane Irma (you can find out more information here).
Here is the most recent projection from the National Hurricane Center:
UPDATE 9/7/2017 7:00am:
A State of Emergency has been called for both North Carolina and South Carolina.
The forecast for Hurricane Irma continues to show a strong possibility of the storm avoiding landfall with Florida and continuing up the coast toward the Carolinas in full force:
Comments
comments