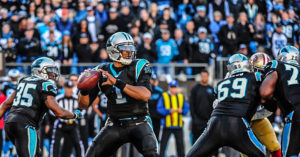 Last year the Carolina Panthers started off the season strong, with a 6-2 record on November 5th…but the season quickly took a bad turn…really bad. With increasing arm problems and unreliable receivers, Cam Newton led the Panthers to 7 straight losses between November 8th and December 23rd. They did manage to beat the Saint's second string during their last game of the season on Dec. 30th to finish with a 7-9 record.
But all that is in the past…a new season is almost here!
The Panthers will be starting and ending their 25th season right here in Charlotte – the first time this has happened in over 10 years.
Our first regular season game will be Sunday, September 8 against the reigning NFC champion Rams and our last game will be Sunday, December 29 against the reigning NFC South champion Saints – both games will be played at home.
Here is the full schedule for the Carolina Panther's 2019 season;
2019 Carolina Panthers Schedule

Date
Opponent
Time/TV
Tickets
Thursday
Aug. 8
at Chicago Bears

 (Preseason)

Soldier Field, Chicago, IL

8:00pm ETLocal/NFLN
Buy Tickets
Friday
Aug. 16
Buffalo Bills

 (Preseason)

Bank of America Stadium, Charlotte, NC

7:00pm ETLocal/NFLN
Buy Tickets
Thursday
Aug. 22
at New England Patriots

 (Preseason)

Gillette Stadium, Foxborough, MA

7:30pm ETLocal/NFLN
Buy Tickets
Thursday
Aug. 29
Pittsburgh Steelers

 (Preseason)

Bank of America Stadium, Charlotte, NC

7:30pm ETLocal/NFLN
Buy Tickets
Sunday
Sep. 8
Los Angeles Rams

Bank of America Stadium, Charlotte, NC

1:00pm ETFOX
Buy Tickets
Thursday
Sep. 12
Tampa Bay Buccaneers

Bank of America Stadium, Charlotte, NC

8:20pm ETNFLN
Buy Tickets
Sunday
Sep. 22
at Arizona Cardinals

State Farm Stadium, Glendale, AZ

4:05pm ETFOX
Buy Tickets
Sunday
Sep. 29
at Houston Texans

NRG Stadium, Houston, TX

1:00pm ETFOX
Buy Tickets
Sunday
Oct. 6
Jacksonville Jaguars

Bank of America Stadium, Charlotte, NC

1:00pm ETCBS
Buy Tickets
Sunday
Oct. 13
at Tampa Bay Buccaneers

Tottenham Hotspur Stadium, London, England

9:30am ETNFLN
Buy Tickets
Sunday
Oct. 20
BYE
Sunday
Oct. 27
at San Francisco 49ers

Levi's Stadium, Santa Clara, CA

4:05pm ETFOX
Buy Tickets
Sunday
Nov. 3
Tennessee Titans

Bank of America Stadium, Charlotte, NC

1:00pm ETCBS
Buy Tickets
Sunday
Nov. 10
at Green Bay Packers

Lambeau Field, Green Bay, WI

1:00pm ETFOX
Buy Tickets
Sunday
Nov. 17
Atlanta Falcons

Bank of America Stadium, Charlotte, NC

1:00pm ETFOX
Buy Tickets
Sunday
Nov. 24
at New Orleans Saints

Mercedes-Benz Superdome, New Orleans, LA

1:00pm ETFOX
Buy Tickets
Sunday
Dec. 1
Washington Redskins

Bank of America Stadium, Charlotte, NC

1:00pm ETCBS
Buy Tickets
Sunday
Dec. 8
at Atlanta Falcons

Mercedes-Benz Stadium, Atlanta, GA

1:00pm ETFOX
Buy Tickets
Sunday
Dec. 15
Seattle Seahawks

Bank of America Stadium, Charlotte, NC

1:00pm ETFOX
Buy Tickets
Sunday
Dec. 22
at Indianapolis Colts

Lucas Oil Stadium, Indianapolis, IN

1:00pm ETFOX
Buy Tickets
Sunday
Dec. 29
New Orleans Saints

Bank of America Stadium, Charlotte, NC

1:00pm ETFOX
Buy Tickets
Comments
comments