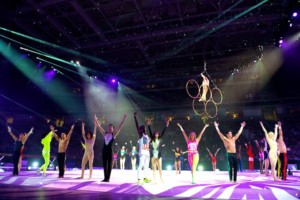 The 2016 Kellogg's Tour of Gymnastics Champions will be coming to Charlotte this month on October 28th. The event will showcase gymnasts from the 2012 and 2016 Olympic Games, along with well-known names from the sport. They will be performing at the Spectrum Center (formerly Time Warner Cable Arena) in Uptown.
"This is going to be the best show we have ever produced," said Steve Penny, president of USA Gymnastics. "We will celebrate our athletes' success in Rio, as well as what gymnastics means to kids and fans of all ages. This will be a special opportunity to see the USA's best-known and well-loved gymnasts."
"The stars of USA Gymnastics started every morning with a dream, hitting the gym and working to achieve their full potential. They have inspired and delighted fans with their hard work and dazzling performances," said Jeremy Harper, senior director of marketing for Kellogg Morning Foods. "Maybe we'll help inspire future gymnasts to start their own Olympic journey."
For tickets or more information click here.
Comments
comments