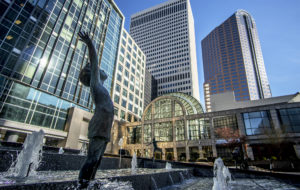 Two of the largest banks in the Southeast have announced they'll be merging and establishing a new headquarters right here in the Queen City.
The new $66 billion deal will join Atlanta's Suntrust Bank with Winston-Salem's BB&T to creat the 6th largest bank in America.
According to a press release, "the combined company will operate under a new name and brand, which will be determined prior to closing." (you can vote for the company's new name in our poll below)
The company's new headquarters in Charlotte will include an expansive Innovation and Technology Center to drive digital growth and development. The former community banking centers of both companies will remain in operation in Winston-Salem and Atlanta.
The board of the new company will be comprised of an equal number of executives from both companies.
"This is a true merger of equals, combining the best of both companies to create the premier financial institution of the future," said BB&T Chairman and Chief Executive Officer Kelly S. King. "It's an extraordinarily attractive financial proposition that provides the scale needed to compete and win in the rapidly evolving world of financial services."
William H. Rogers, Jr., Chairman and Chief Executive Officer of SunTrust, also noted, "With our geographic position, enhanced scale and leading financial profile, these two companies will achieve substantially more for clients, teammates, associates, communities, and shareholders than we could alone. I have tremendous respect for Kelly, his leadership team and the BB&T associates. We will leverage our respective strengths as we focus together on the future."
The new bank will add $442 billion in banking assets to Charlotte, bringing us one step closer to regaining the title of "second biggest banking city in America".
Comments
comments