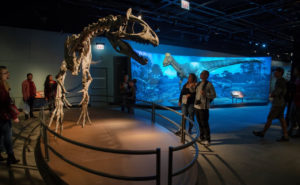 Prepare to embark on an adventure that uncovers never-before-seen dinosaur fossils from one of the most isolated environments on Earth. Antarctic Dinosaurs, a new exhibition arriving at Discovery Place Science on February 8, transports visitors back in time to discover what life was like in Antarctica 200 million years ago.
The traveling exhibition was developed by the Field Museum in Chicago in partnership with Discovery Place as well as the Natural History Museum of Los Angeles County and the Natural History Museum of Utah. Antarctic Dinosaurs, which is offered in both English and Spanish, is presented in Charlotte by Chase Bank.
The exhibition guides visitors through what was once a lush, green and thriving continent where dinosaurs freely roamed. Guests will discover fossils from four Antarctic dinosaur species, including the 25-foot long Cryolophosaurus, and get hands-on experience with real tools used by paleontologists to carefully extract fossils from the now frozen landscape.
While the new dinosaur species are sure to capture the attention of young and old alike, Antarctic Dinosaurs also focuses on the unique working conditions for the scientists who take part in these challenging expeditions to this vast continent today. Visitors will quickly learn that this isn't your average fossil dig!
"Working in Antarctica is like traveling to another world. You go into the mountains and you set up in the middle of nowhere on the ice," said Dr. Nathan Smith, one of the researchers whose work is featured in the exhibition. "Folks going to do remote research in Antarctica have to complete survival training and what we call 'snow school' to ensure they are prepared in case they become stuck with no one able to reach them for a while."
The research and experiences featured in the exhibition also shed new light on our planet's ever-changing climate and geology.
"The dinosaurs may draw you into the exhibition, but you will quickly discover there is so much more to unearth, including a very real and important look at climate change," said Catherine Wilson Horne, Discovery Place CEO and president. "Discovery Place is proud to provide opportunities for these kinds of conversations in the Charlotte region. Through our efforts to help create and showcase Antarctic Dinosaurs, we are employing our expertise to share information and knowledge about this timely environmental science issue with our community."
As partners in the creation of the exhibition, Discovery Place staff began contributing to its development in 2016. Discovery Place supported the initial development phase then reviewed concepts, direction, prototypes and mock-ups of experiences and other elements of the exhibition.
Go beyond the bones
Several special events and activities will take place throughout the run of Antarctic Dinosaurs. These include the following events:
Fossil Day – Saturday, February 8
Celebrate opening day of the exhibition with us as we explore the Antarctic and fossils. We will have activities on fossilization, cold weather exploration and dinosaurs. Guests can excavate their own fossils, suit up in some cold weather gear to feel what it's like to work in Antarctica and even meet some of the research scientists from the exhibition and IMAX film.
Sustainability Saturdays – Every second Saturday
Join us in Explore More Life every second Saturday as we investigate a different facet of sustainability every month.
Expedition Science on the Rocks: An Extreme Overnight Adventure – Friday, February 21 through Saturday, February 22
Adults (21+) are invited to spend the night with us at the Museum as we embark on an expedition of epic proportions. This twist on our traditional monthly Science on the Rocks event will include lively Antarctic activities, including winter suit races, an ice luge and more. Participants will spend the evening earning various charms for accomplishing certain tasks. They'll get explore the exhibition, take in an accompanying IMAX® film and even make their own lantern to use as a nightlight and then take home. Guests will spend the night in designated sleeping areas throughout the first level of the Museum.
National Geographic Live: Into the Arctic Kingdom – Tuesday, March 24
The latest season of the National Geographic Live! series, presented by Discovery Place Science and Blumenthal Performing Arts Center, includes a special presentation that is sure to add to your chilling experience. On March 24, explore the polar extremes at National Geographic Live: Into the Arctic Kingdom where  National Geographic Photographer Florian Schulz will discuss his multi-year quest to document the Arctic.
Antarctic Overnight Expedition – Saturday, May 2, through Sunday, May 3
The entire family is invited to spend the night at the Museum with this prehistoric sleepover tailored to give adults and children alike a glimpse into the world of Antarctic expeditions. We'll be learning all about Antarctic dinosaurs and how the landscape of Antarctica has changed. Discover what it would be like to excavate fossils in Antarctica and then excavate your own fossil to take home. Plus, much more!
Get the full experience
While Antarctic Dinosaurs is here, Discovery Place Science will also be debuting an accompanying IMAX® film, Dinosaurs of Antarctica.
Like the exhibition, the film journeys to the south polar landscapes of Antarctica hundreds of millions of years ago to roam the primitive forests and thick swamps alongside bizarre dinosaurs and colossal amphibians. It's an immersive glimpse into a surreal world of bug-eyed giants and egg-laying mammals – where survival means enduring the sunless, six-month polar winter surrounded by meat-eaters with night vision.
Juxtaposing the lush world of prehistoric Antarctica with the stark beauty of research and field sites today in the icy content, the film also joins intrepid Antarctic scientists on a quest to understand the continent's profound transformation – and to predict the future as humans drive dramatic change.
Join the thrilling expedition
Antarctic Dinosaurs will be on exhibition from February 8 through May 25. Ticket prices and packages to join the thrilling expedition are:
| | | | | | |
| --- | --- | --- | --- | --- | --- |
| | Adults | Children (2-13) | Seniors (60+) | Members | Welcome |
| Full Antarctic Experience: Antarctic Dinosaurs the exhibit PLUS Dinosaurs of Antarctica in IMAX (includes full-day Museum admission) | $26 | $22 | $24 | $7 | $8 |
| Antarctic Dinosaurs the exhibit (includes full-day Museum admission) | $22 | $18 | $20 | $3 | $4 |
Discounts are available for schools and groups of 15 or more. Tickets are on sale now and advance sales are highly recommended. Reserve your spot in advance at science.discoveryplace.org, via phone at 704.372.6261 or in person at Admissions. For more information, visit discoveryplacescience.org.
Antarctic Dinosaurs was developed by the Field Museum, Chicago in partnership with the Natural History Museum of Los Angeles County, Discovery Place – Charlotte, NC, and the Natural History Museum of Utah. Generous support was provided by the Kenneth C. Griffin Charitable Fund.
Comments
comments