There are now talks of bringing an old Charlotte-area nuclear bunker back to life as tensions with Russia continue to worsen.
The massive 60,000 square foot underground bunker sits about 30 miles due East of Charlotte, at 8670 Love Mill Rd., in Stanfield, NC;
It's divided into a total of four floors at one end of the building, and two floors at the other, and includes; a kitchen, bathrooms, showers, a 12,000 gallon water tank, central air conditioning, and pretty much anything else you'd need to sustain 90 people for 90 days during a nuclear attack.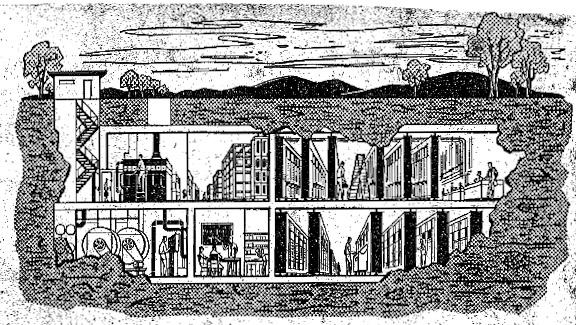 Talks of renovating and recommissioning the old bunker have been increasing as tensions ramp up between the United States and Russia, especially in relation to Syria.
Russian's state-owned television station, VGTRK, has even started urging its citizens to start buying water, army rations, and other survival supplies because Russia could go to war with the United States any day now.
Here's just one of the recent telecasts where government-sponsored VGTRK reporters tell citizens to begin preparing for nuclear war;
The above show aired a day after sources told Newsweek that "there is a major war scare" in Moscow, as the US prepares to strike Syria in retaliation for the use of chemical weapons. The Trump administration has stated that it believes Syria's Russian-backed President Bashar al-Assad was responsible for the attacks, and it plans to ensure that Assad pays the price. Russian officials have responded by saying that Moscow would meet fire with fire.
"If there is a strike by the Americans, then the missiles will be downed and even the sources from which the missiles were fired," warned Alexander Zasypkin, Russia's ambassador to Lebanon, during an interview this past Tuesday.
Yesterday morning, the President of The United States released a statement saying;
"Russia vows to shoot down any and all missiles fired at Syria. Get ready Russia, because they will be coming…"
Russia vows to shoot down any and all missiles fired at Syria. Get ready Russia, because they will be coming, nice and new and "smart!" You shouldn't be partners with a Gas Killing Animal who kills his people and enjoys it!

— Donald J. Trump (@realDonaldTrump) April 11, 2018
If the old bunker in Stanfield is reactivated, it's unclear at this point who might be chosen to be one of its 90 occupants.
Comments
comments