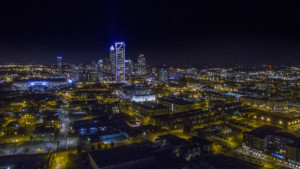 Over the past two years, life science hubs have been the most costly locations for office space in the U.S., surpassing the traditional finance and tech centers. Last year, the demand for life sciences was still robust, with the established hubs also making their presence known.
For the second year in a row, Cambridge, Massachusetts is the most expensive submarket for offices in the country. The other top ten most expensive office submarkets are scattered across both the East and West Coasts, especially here in North Carolina.
Here are some highlights from the recent report by PropertyShark findings:
North Carolina is one of 3 states that were home to 4 of the 100 most expensive office submarkets of 2022. Thus, the state placed 4th for most entries on the list, following Texas and New York with 6 entries each, Florida's final add-up of 13 and California's lead total of 34.
Of those, 2 office submarkets are from Charlotte, with Northwest Charlotte – ranked #32 – being the state's most expensive at $394 per square foot, while in the Southpark Charlotte submarket (#82), office space sold for $264 per square foot.
The rest belong to the Carolina Triangle area, 1 submarket being situated in Durham (Research Triangle Park, #46 with an office sale price of $330 per square foot), 1 in Raleigh (West Raleigh, ranked #90 with $253 per square foot) along with the Morrisville submarket – ranked #96 – where office space sold at $246 per square foot.
The Southern region accounts for the second-largest total number of entries with 34 office submarkets from 9 states ranking among 2022's 100 most expensive. The top spot belonged to the Western region which accounted for 50 total entries across 6 states.
At a state level, North Carolina had the 9th-highest average sale price of $222 for office space in 2022, compared to a national average of $227 per square foot.
Comments
comments