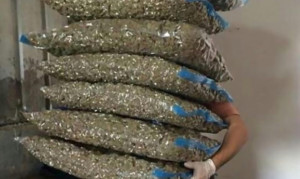 In the small town of Simpson, NC a man is now on the run for drug trafficking after police discovered over 3,000 lbs (1.5 tons) of marijuana in his storage facility.
This past Tuesday, police stopped 38-year-old Vo Thien Ozen during a routine traffic stop. He was given a citation and released when police found drug paraphernalia inside his car, but no drugs, according to The Daily Reflector.
"At 6 p.m. after further investigation, deputies went to 2843 Unit A, Edwards Drive in Simpson, which is a small commercial area across the railroad tracks from the Simpson Fire Department. The location was a kitchen equipment business owned by Ozen."
Inside, deputies discovered;
$6 million worth of marijuana
$100,000 worth of heroin
More than $100,000 in cash
The drugs and cash were found inside a fairly basic-looking storage facility, according to WNCN.
The Pitt County Sheriff has now issued felony arrest warrants for Ozen, including; one count of maintaining a business for the purpose of drug activity, two counts of trafficking marijuana, and one count of trafficking heroin.
If you have any information about Ozen's whereabouts, please call the Pitt County Sheriff's Office at 252-830-4141 or Pitt-Greenville Crime Stoppers at 252-758-7777.
Comments
comments