Two teenagers were shot last night moments after a 'no-ID' party was ending.
CMPD officers responded to an assault with a deadly weapon emergency call at around 9:57 p.m. last night at the intersection of North Tryon and Dalton Avenue:
The shooting occurred moments after hundreds of teenagers were leaving the "March Madness – QC Edition" party at the Extravaganza Depot on N. Tryon St.:
Here's a video of the event, captured about an hour before the shooting: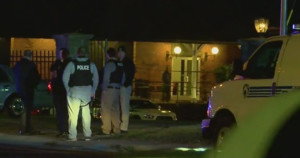 When emergency crews arrived on the scene, they discovered two victims with gunshot wounds. The victims were rushed to Carolinas Medical Center, according to Charlotte-Mecklenburg police.
One of the victims had serious injuries and the other had minor injuries.
Police have not said if any arrests have been made in this case.
We will update this article as we receive new information.
Comments
comments